New sail plans 12/12/17
18′ Pirate Schooner (or Cutter) MARY READ
LOD: 18′ 3" Beam: 6'2″ Draft: 2′ 6″ Working Sail Area: Schooner: 152sq. ft., Cutter: 128 Sq. ft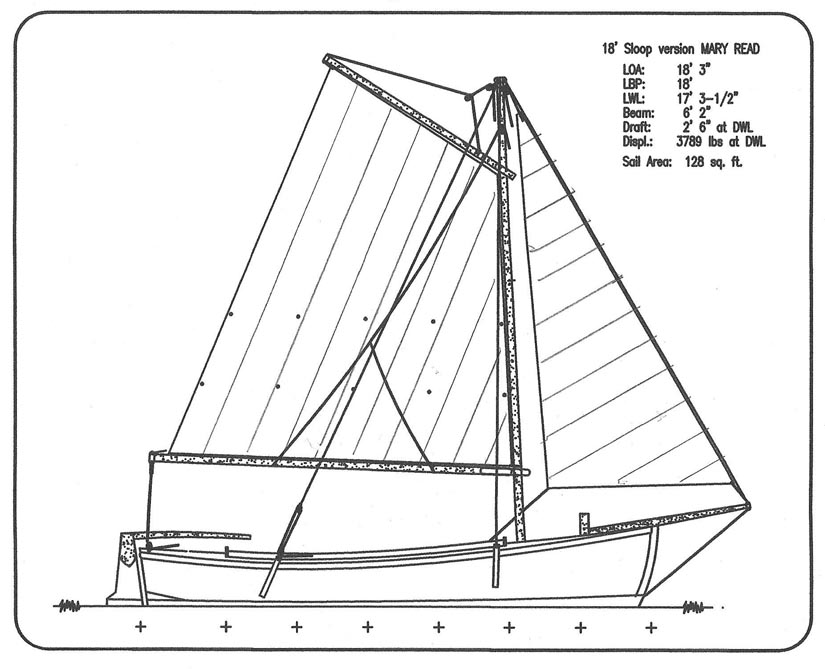 And here she is as a Cutter
Back in the 1970s there was an Ole' Boy who floated around Seattle's Lake Union in a 14′ 3 masted ship. I never did talk with him but always admired him because he was living his fantasy, and over the years thought about him and his ship once in a while.
Thoughts of him got me motivated enough about 1990 that I designed a 16′ schooner named Happy Camper Of Pogo Pogo, or POGO for short, the name based on a speech that then Vice President Dan Quayle gave in Polynesia. I'll spare you the whole story here but if you're interested, you can read about her elsewhere on this site. That little boat grabbed at people's imaginations and a number of them have been built. One even sailed the Irish Sea across to the big wood boat show in Brest, France.
POGO worked out just great but was just a bit small for many folks and I got many letters asking if she could be stretched a few feet. So, I've done a new little schooner, but this time 18′ which makes her a lot better for semi-open water.
MARY READ is a little ship. I gave her a pilot schooner rig with an overlapping gaff foresail but with a Marconi main to make things a little simpler. It's a very stout rig with plenty of strings to play with! She even has running backstays! If I had had a kid instead of dogs I like to think I'd build a boat like this for it. If she had a small cabin between the masts this boat would be fairly safe on open water, more able than some of the toys that have made passages! I'm not advocating her as a cruising boat though!
Her construction is quite heavy! The hull is two layers of 3/'8″plywood. There's no reason she can't be planked although if you're not keeping her in the water full time, plywood is better. But if you do plank her, use 3/4″ and add intermediate frames between the stations as described in the building book.
She has to weigh 3700 pounds to get to her waterline. I was going to spec outside ballast but decided it would make storing heron a trailer more difficult. So, try her without ballast. You can always add it inside, or even fasten a heavy plate, say 3/8″x 9″ x 10′ or so, on each side of the keel with lag bolts.
The original Mary Read was an English pirate, said to have been especially fierce and bloodthirsty! I've always liked strong women and I suspect Ms. Read was quite the deal.
Particulars.