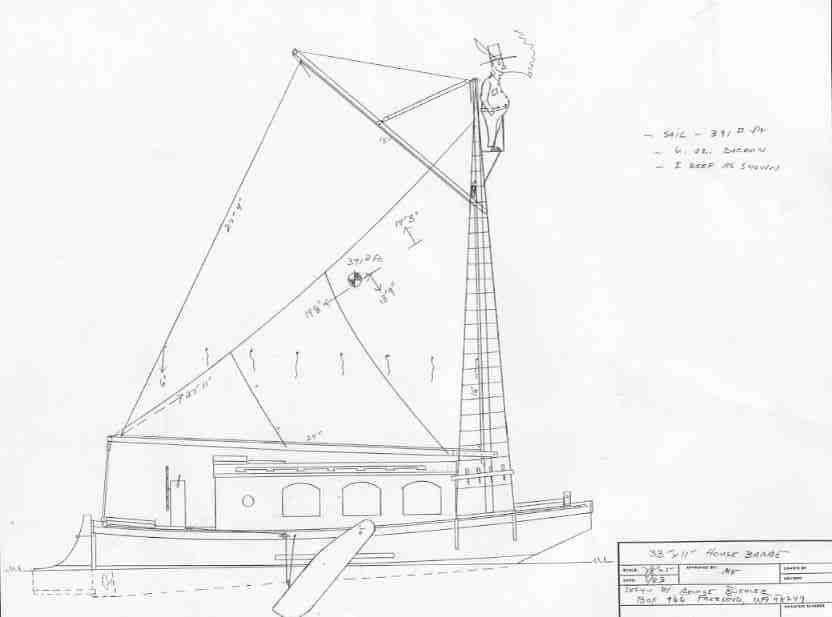 A Sailing Barge
Some years ago I designed this boat, named RUFUS, for a guy who lived along the Intercostal waterway in Florida. I had alot of fun thinking it up, and I mean to own one myself some day. I've thought of building it way up the Columbia river, and floating down to Astoria. Or maybe building it at the headwaters of the Mississippi, and floating down to New Orleans. Of course, it would be a fine craft for quiet fjords around here.
The idea was a cheap and simple to build floating camp. It would have a small inboard, or a "power" outboard like a Honda or British Seagul, and a big sail to loaf along down wind. Since she was designed smaller outboard technology has exploded and today, I'd look real close at a single 15 to 25 "Hi-thrust"four stroke outboard. Of course a small inboard is nice too but the outboard is much less hassle to install, and gives far better control under power.
The hull is just a plywood box, covered with 'glas cloth and epoxy, and wouldn't be any trouble to build. And since she is just a box, it's easy to change dimensions and make her narrower if you want to trailer her (you can usually sneak by with 9' beam) or shorter. Or longer!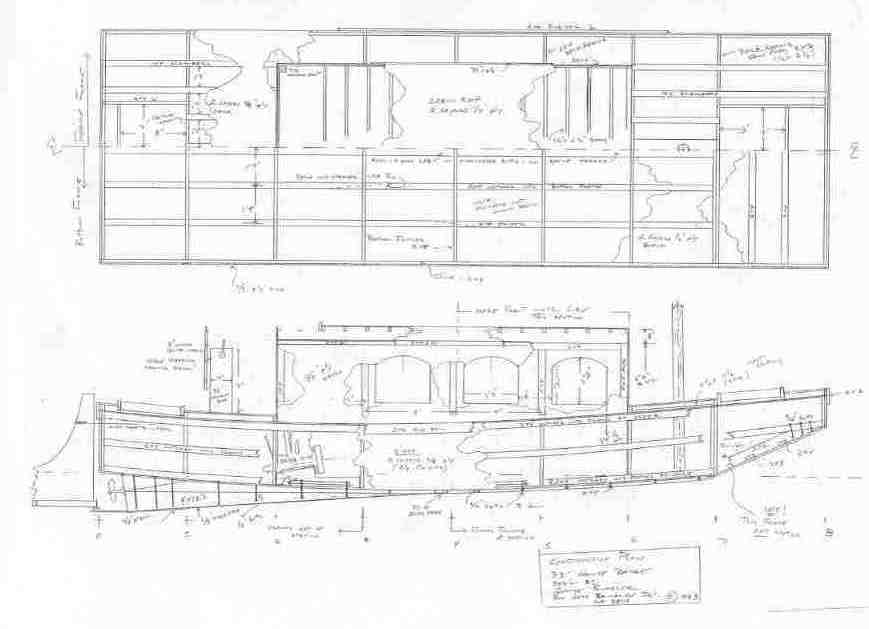 The house is set well back from the hull to give lots of deck space. Since I designed it, I've thought I might extend the house clear out to the side decks and back to the stern, leaving the foredeck as the helm. One guy said he was going to build it that way, and attach a diving board to the back of the house roof, which sounded pretty good to me. This bigger house would open up the interior considerably, and give room for permanent bunks rather than the fold down system shown here.
However, as drawn the deck space is nice, and gives holds on each end for crab pots, fishing gear, and so on. And the interior is perfectly comfortable for day use. I have an old cabin where I have to fold down the couch at night to make a double bed, and it's no great hassle. But looking at this, you can see that if the house was extended you'd get a hell of a lot better interior options. Of course the looks would be hurt too; I like the way she looks now…..
Everything about RUFUS is meant to be cheap and simple. Here's a few details from the plans.
LOD: 33′ Beam: 11′ Draft(board up) 1′ 3″