35′ Trawler (not Troller) Yacht COOT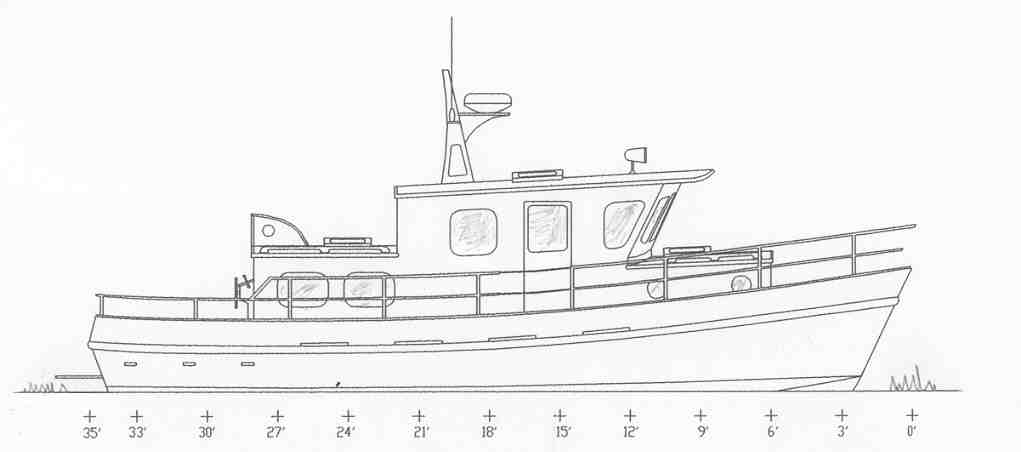 COOT is a medium sized Trawler Yacht that is specifically planned out for NW cruising. Of course this doesn't rule out her use anywhere else! The features that make COOT so appealing here will be appreciated anywhere.
The Pacific Northwest is absolutely tremendous cruising grounds. That's the sole reason I live here. There's semi-protected waters stretching from 70 miles south of Seattle to several thousands of miles north. There's thousands of anchorages and dozens of small towns. A couple could literally spend their lives cruising this area and rarely anchor in the same place twice. Weather is an issue; it can get quite rough quickly. But there's usually shelter not to far away and COOT can easily handle almost anything she's likely to encounter here. And the cruising is year around; winters are damp and cold but rarely frozen, and many people say they prefer winter cruising through the Islands because there's less people! Of course that's assuming they have a boat with a snug pilot house. Winter cruising here in a sailboat is miserable….
COOT has many unique qualities! She is designed and built along real workboat ideas. This is how any boat calling itself a trawler should be built, but few are you'll see if you compare them to COOT.
She one of the very few production boats offered in steel and is built to the Chinese CCS standard, which like Lloyds, is one of the three internationally recognized ship building standards. Her heavy steel hull can take mishaps with rocks or deadheads with ease which makes cruising at night or fog far less stressful than with a glass boat.
Her long full keel protects the prop and rudder. Her rudder is oversized and easily removed. She has 13″ bulwarks and a 1 1/2″ diameter welded pipe station and rail system. Along with spacious 16″ side decks, heavy handrails on the house, and a good non-slip deck coating, movement on deck is easy and safe. It would be very difficult to fall off.
Trolling for salmon and "goin crabbin and shrimpin" is part of the NW lifestyle and COOT has a good sized self-bailing cockpit close to the WL. Of course she has steering and engine controls back there; how can you fish without them! One of the few options available is a davit with a snatch block and an electric winch on the cockpit sole. With these you can easily hoist commercial sized crab pots; no "crab thief" can raise your pot! The transom has a door with one step down to a large swim platform. This makes a wonderful diving platform as well as easy access to your dinghy.
COOTS interior design is totally different in concept to most boats.
Oddly, the RV industry figured out years ago that most rigs are used by a couple, a fact that the boating industry still hasn't caught on to. Rather than emphasize multiple sleeping quarters and bathrooms, practically all RVs, from 22′ 5th wheels to monster half-million dollar diesel pusher motorhomes, will have just one bathroom, big enough for a westerner to use, a kitchen big enough to actually cook in, one comfortable bed for the owners, and a couch that converts to a guest bed. The typical RV is designed to be comfortable for the owners! COOT follows this philosophy to the letter.
Her aft cabin has a large galley with a propane stove and oven, deep sink, plenty of counter and cabinet space, and a fridge. There's a bathroom, not a "head," that's 6′ long and has a separate shower stall.
Her pilot house is also the living room. It has a large dinette that will "drink 6, feed 4, and sleep 2". Across from it is an easy chair and the helm. There are large windows, a door on the stb. side next to the helm, and a large dash area for her electronics.
Her forward cabin is the owner's cabin and has a large double bed, a closet, and numerous shelves. Two singles are optional.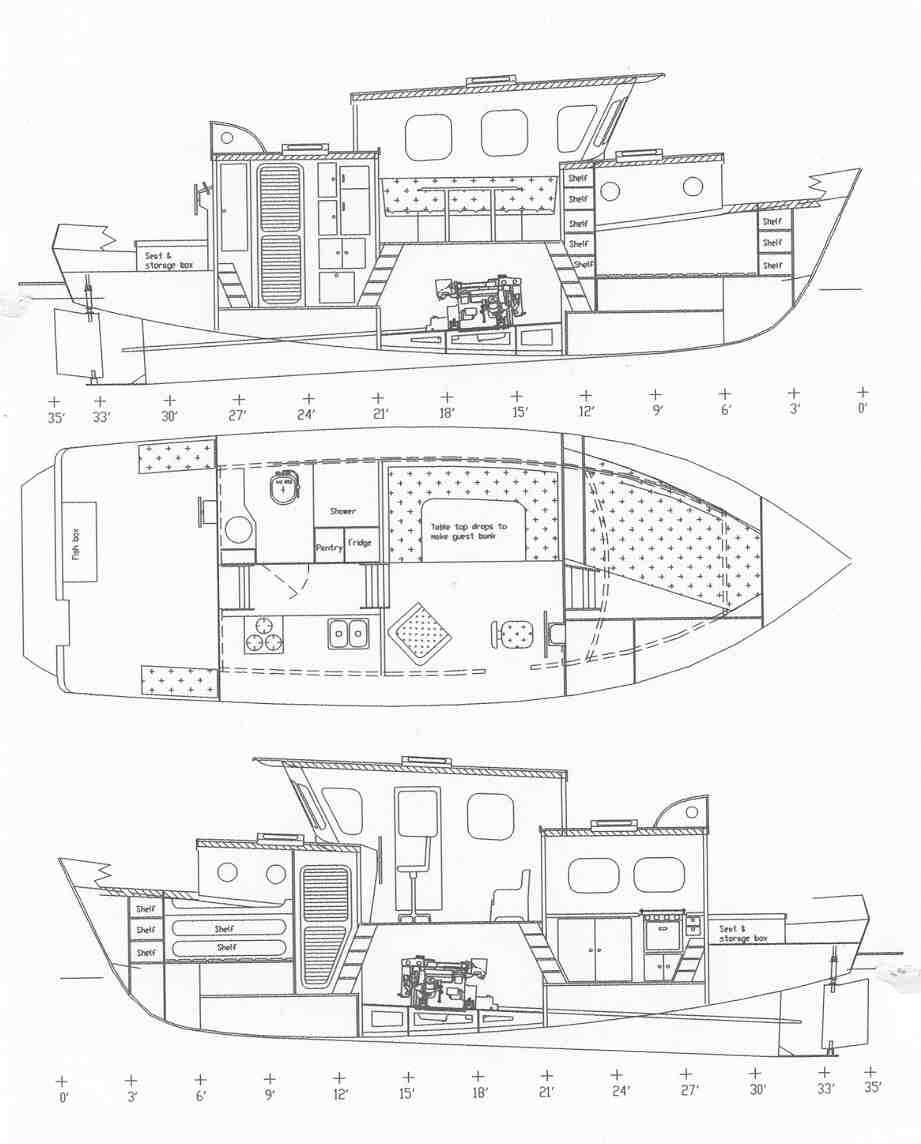 COOT is powered by a single 4 cyl. Deere diesel and carries 300gallons of fuel giving her the range to wander far from the fuel dock. Fuel usage of course depends on engine speed, but keeping her throttled back, she's pretty economical.
Here's her projected requirements in calm and off the weather conditions. Obviously, fighting the tide or a blow requires moreRPM, hence HP, to maintain speed. But these numbers give a rough guide. A typical diesel will develop almost 20 HP for an hour on one gallon of fuel. I'd tend to cruise at about 1.2 or so speed/length ratio. 6 1/2 to 7 knots is a good clip, and the engine will easily do it. Notice the difference between 7.6 knots and 9; that translates to 1.2 gallons an hour to over 70 an hour…..
S/L Ratio….. Knots….. HP
1 …… ……….5.63…….. 3.9
1.1…………… 6.19……. 6.0
1.2 ……………6.75……. 9.5
1.25…………. 7.03…… 12.8
1.3…………… 7.32…… 17.3
1.35………….. 7.6…….. 23.5
1.6……………. 9.0 …… 149.3
Particulars
LOA: 35.00 ft LWL: 31.67 ft Beam: 12.31 ft Beam WL: 10.82 ft
Draft: 3′ 10″ Displ. 25546.95 lb.
COOT is offered delivered minus sales taxes to the west coast of the US for under $200K, VERY well outfitted. The only option I think you'd might want is the crab block and deck winch. Email us for more info.