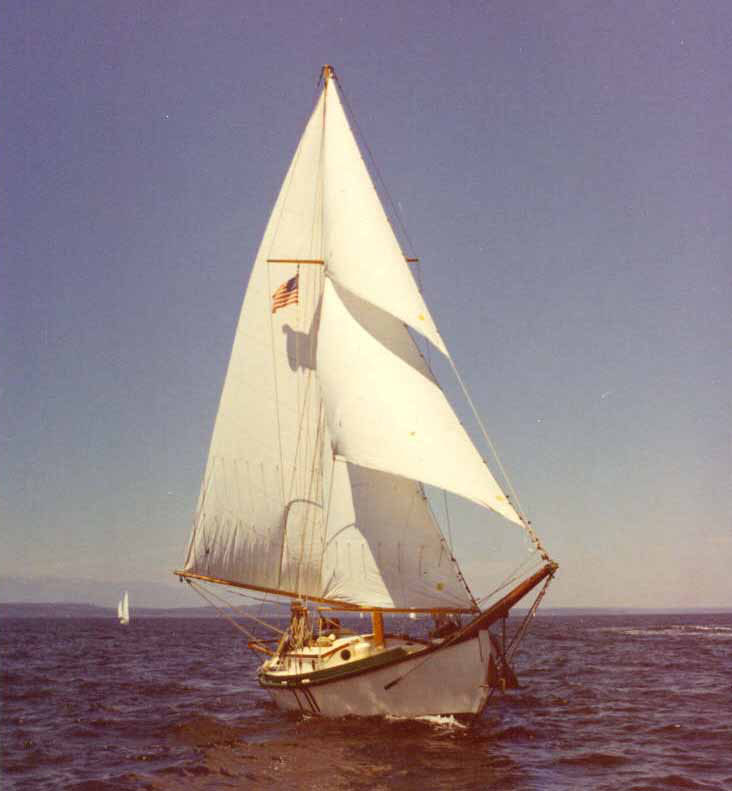 36′ cutter JUNO stepping along. I built this particular one and lived aboard 4 years, back in 1976. Thanks to Wim Netens of Belgium, who retouched this photo for me.
I designed JUNO for myself on the dinette of my first JUNO, a 26 footer, while hove-to for a week somewhere between Mexico and Hawaii. The weather was inclement and I've always preferred taking things easy; when there's no schedule to keep, why rush to get "there?" Besides, I'd been thinking about a bigger boat and by then, after 2 years of cruising, had a good idea of what I wanted!
I sold the little one in Hawaii and built this one in Seattle. It took 20 months. We lived aboard 4 years, then sold her to a guy who used her as a traveling doc's office throughout Alaska for the next 15 years or so. He sold her, and I heard from the new owners that although she needed some work, she was now again going strong. Not bad for a 30 year old boat built from lumberyard stock wrecked warehouses! A number of JUNO's have been built in wood, plywood, and steel, and a few are out cruising now.
JUNO worked real good. She handles easily, and you can tie the helm off even down wind, when the breeze is steady.
She's a little tender, but in return has such a smooth roll motion that it would be hard to get seasick! The best comment I've heard about her motion was by Gary Greg, who did a beautiful job on a steel JUNO, and at this writing is in Mexico with her. Gary said JUNO rides; "like a '53 Buick."
The interior design worked out great for live-aboard. There's tremendous storage, an excellent galley, and a very comfortable big double bunk. The dinette is raised on a platform so you can see out the windows, and folds down to make a guest double bed.The short cabin gives you the deck room to carry a real skiff, something few boats this size can do. The plans for JUNO are in the Building Book. However, the advantage to buying them from me is that you get the large scale sheets (3/4″ to the foot scale), plus any consultation and advice you may want/need. Plus the plans come with wood and steel versions, along with JUNO 2, a loaf-along motorsailer version.
This design has great sentimental value tome and I love her looks. But the fact is that the newer design,JUNA, is "improved" a bit. She isn't as tender and is more weatherly. But she doesn't have this boat's cocky look and JUNO, for her faults, does work quite well…..
LOD: 35′ 6″ Beam: 10′ 7″ Draft: 5′ 6″ Displ.: 22,000 lbs