47′ 7″ Staysail Schooner GULNA'RE 7/2/05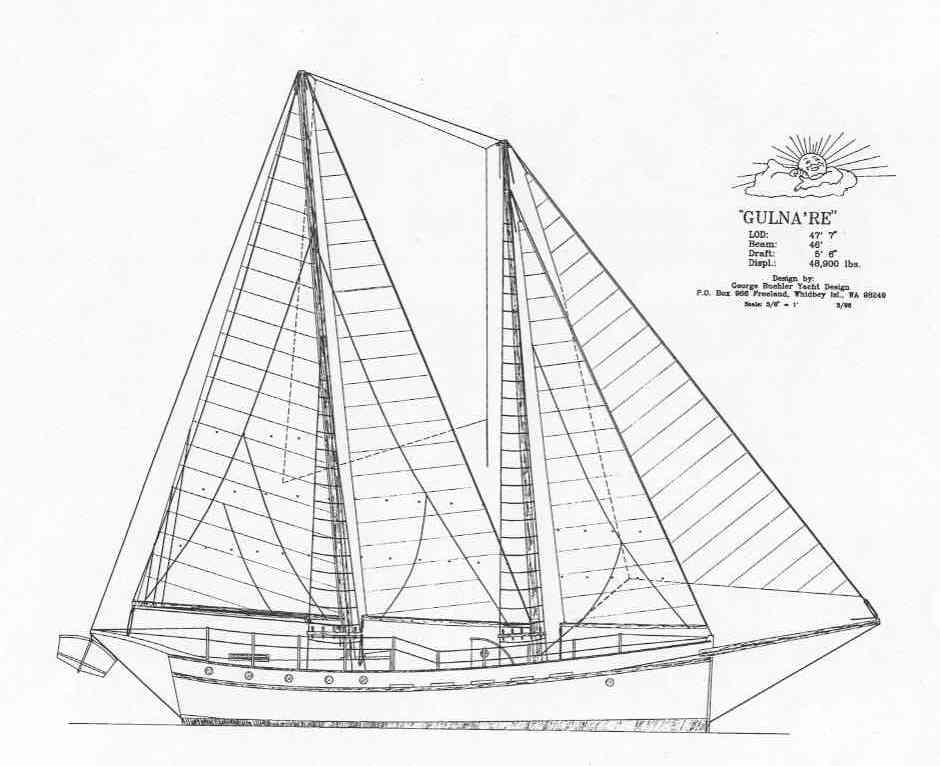 If you look closely you'll see a great similarity between this boat and the Diesel Duck family. In fact, I guess if you wanted a DUCK set up to emphasize sail rather power, here's what she'd look like. This is funny because I didn't realize it until years after the first DUCK was designed. As I designed this one first strictly as a spec design (non-commissioned during one of the all to frequent slow times…..), I now see I could have saved myself and the people who commissioned the first DUCK alot of trouble if I had simply pulled out this plan and said;"here we are. Just loose the masts and add a pilot house!"Because the idea is the same in that she is rugged, simple to build of steel, and a lot of boat for the length.
The idea behind this boat is two-fold. First, she was meant to be a big, heavy, and comfortable cruising boat, safe enough togo anywhere in, a very comfortable home to live aboard and entertain.Then, she was thought to be an ideal day charter boat, able to feed and booze a whole load of day trippers, with the deck space to carry wind surfers, diving gear, and so on. That's why she looks like a pirate ship, and tied to a waterfront restaurant in a tourist trap port, her bowsprit pointing high up in the sky, a pirate flag flying from the "cross trees," she'll really stand out.
While big, she's not particularly expensive. She has about the simplest and quickest hull form that can be built of steel. She has very heavy scantlings since she originally was planned to live in the Caribbean, and I wanted her able to hit a reef without undue risk. Of course any boat can be sunk; look at the Titanic. But this boat's 1/4″ plate hull and closely spaced longitutionals make her far more stout than the average boat anywhere near her size.
The interior is divided into two big cabins. The entire forward area is the owner's cabin, with a 5′ x 7′ bead, and a big bathroom (NOT head) with a tub and shower. The back half is the living area, with a galley bigger than many homes, and a huge circular table that can eat and drink a crowd.
Her flush deck design is easy to build and gives tremendous laying about room. Her big center cockpit will be a comfortable lounging area, and can be covered with a folding top to protect the helmsman from the sun or rain. Or an enclosed pilot house could be built there, like the fine old Englemann ketches from the 1950s and'60s. They were the same idea as this boat but had clipper bows, and were built of wood.
The sailplan is properly busy looking but still easily handled.It's self tending for the most part, and can be single handed.She'll be easy for two people to sail, but, we can fix that if you like. There's no reason she can't have a gaff rig, or even a square rig….
Very simple hull lines for steel construction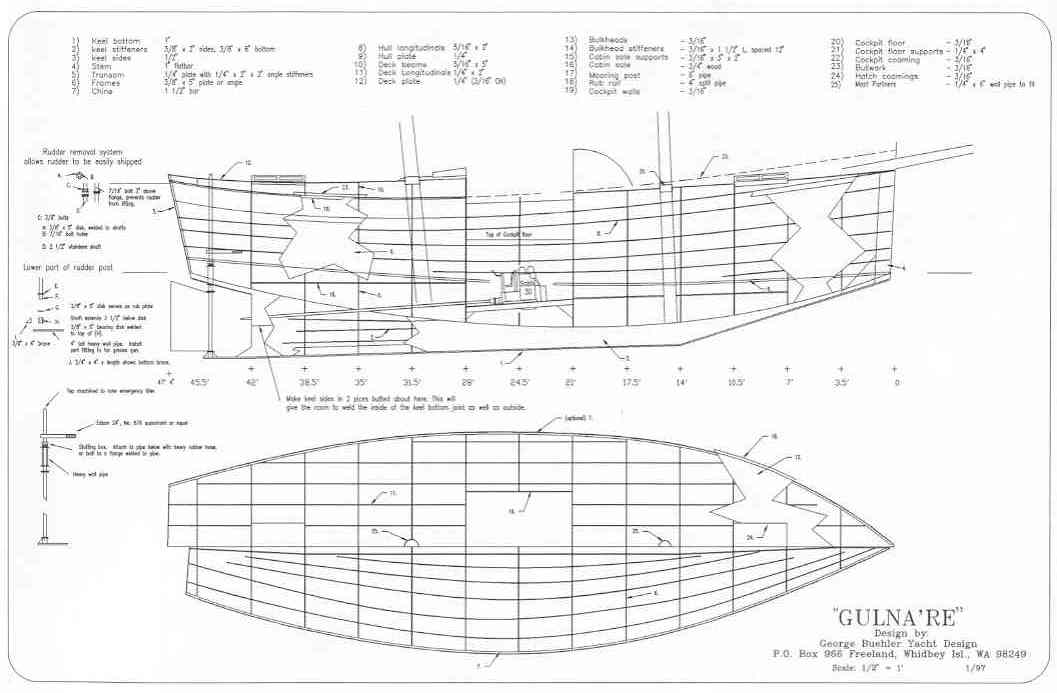 Main construction plan. This is based on the "floating longs" stuff described in myRandom Thoughts section.
PARTICULARS
LOD: 47′ 7″………Beam: 14′ 7″……..Draft(loaded): 5′ 6″…………Displ: 52,200 lbs.