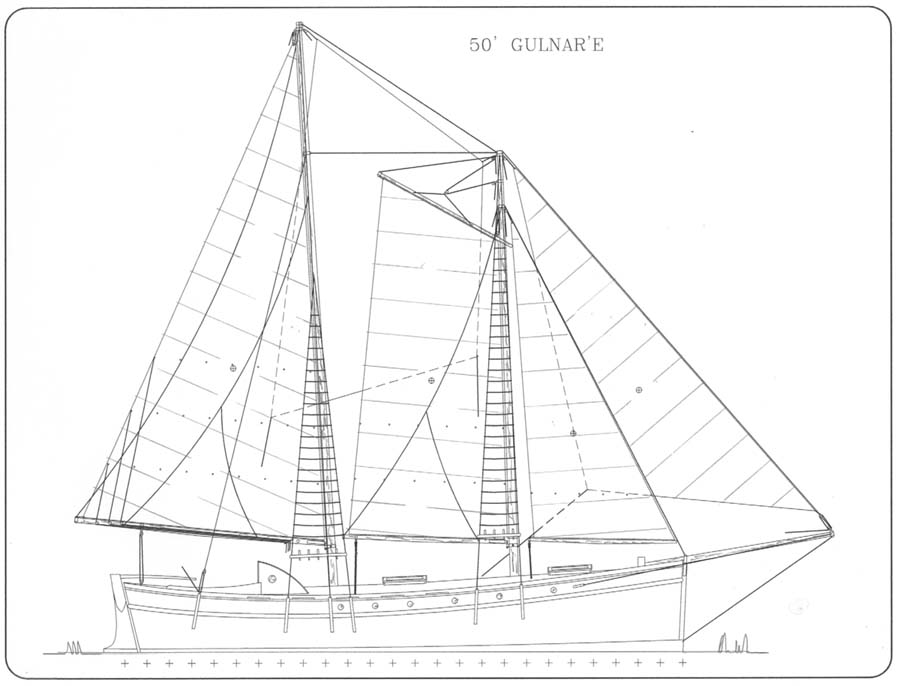 This is a big, heavy, and rugged cruising sailboat, safe enough to go almost anywhere with. She should be a very comfortable home to live aboard and entertain. The sailplan is properly busy looking but still relatively easily handled. It is self tending for the most part, and can be single handed by somebody who knows their stuff. I knew a guy who years ago owned a 60′ schooner inSouthern California. He was pals with the actor Sterling Hayden, who owned a 72′ schooner. These guys would occasionally single hand their big boats together. So while it can be done, she'll be easier for two people to sail of course! I think she could also be a pretty good day charter boat, able to feed and booze a whole load of day trippers, with the deck space to carry windsurfers, diving gear, and so on. Tie her up at a waterfront restaurant in a tourist trap port, her bowsprit pointing out like a big finger, a pirate flag flying from the "cross trees," and she'll really stand out. I've always thought day chartering seemed the best type of charter work. Everybody leaves the day they came, you get a night of peace and quiet, and there's nobody underfoot in the morning!
Her flush deck design is easy to build and gives tremendous laying about room.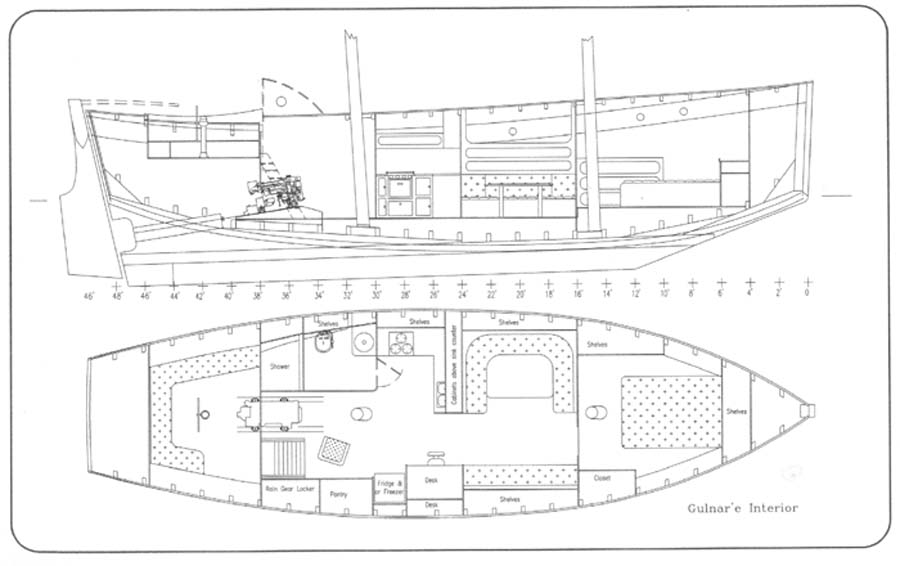 Two interior ideas are shown here. The first one, above, is set up specifically for a couple. The main cabin hosts a usable galley, a huge dinette that could convert to a guest queen, a couch with a lifting back that makes two bunks, a head big enough to fit in, and lots of storage. The owner's cabin is in the bow and separated from the main living area by a bulkhead and sliding door.
This second idea has a guest cabin with two bunks in it. It shares the same large head and galley, as well as the private owner's cabin in the bow. It looses the huge dinette table with couch across, but, if you like company, this is probably a better interior? But of course feel free to set her up as you please!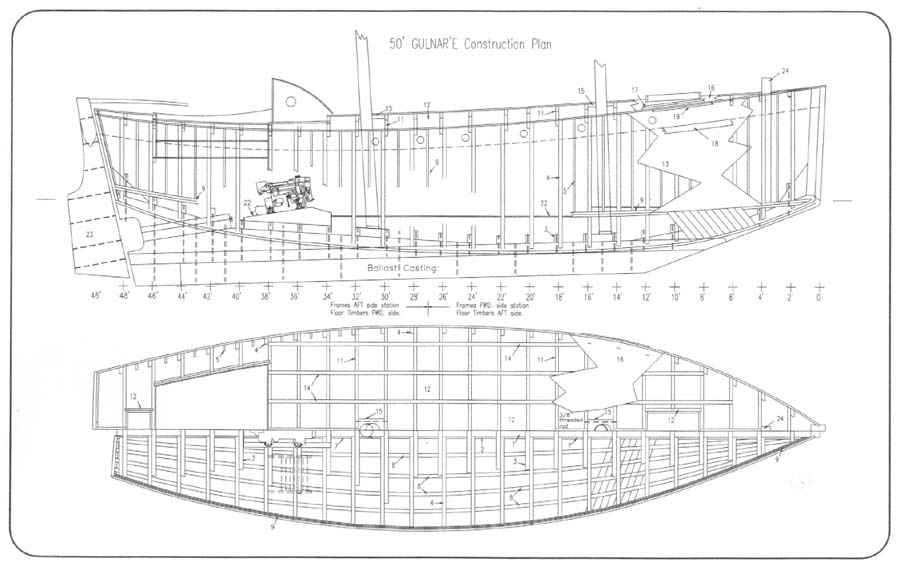 She is the sailing equivalent of the big Diesel Duck and her construction is identical, a little easier because there's no wheelhouse. She can be planked with 2-by alone but if you do that be sure to install the optional "intermediate" frames shown on the construction view. If you want to plywood/glass coat her then no need for the intermediates.
PARTICULARS
LOD: 50′ ….. Beam: 4′ 8″ …. Draft (loaded):6′ …. Displacement: 66,632 lbs.