The idea behind this design was to create a safe and comfortable ocean cruising and live-aboard vessel, while staying within guidelines of moderate costs and simple enough construction practices that the yacht could be built, and financed, by any amateur builder who sets his mind to it. I'm quite pleased with the way she came out, and this is one of my favorite designs because I see no way she could be improved. I like everything about her!
The hull is 50 feet long. This length was determined because it's a size that allows a hull to be trim enough to easily bend material around which greatly simplifies building, yet still gives a good spread out interior and heavy enough displacement for comfortable living aboard. Briefly, it's easier, and often cheaper, to build a trim long boat than a fat shorter boat of equal interior volume, and the result is a better performer because of the extra waterline length.
The hull is a simple single chine type, and can be built of planked wood, plywood, or steel, with minimal waste and no need for elaborate machinery or great skills. I've had a fair amount of experience with this type of hull, and have learned that by giving a chine hull a bit of dead rise, moderate beam, and fairly fine ends, they sail well, track well, don't pound, and have a very comfortable motion in a seaway. And are easy to build.
Construction is stout. The wood version's scantlings are based upon normal dimension lumber available in any lumberyard.She has 2.5″ x 5.5″ frames and 1.5″ planking. I've built several boats like this, and I like them because I feel safe in them. The steel version is equally stout, using 1/4″plate, heavy frames, and numerous longitudinals. Either the wood or steel version will be capable of sailing right through most things that get in front of them!
The vessel's 44,000 pound displacement (cruising trim) allows her to be built like this, and her "flaired" sections give her the buoyancy to carry plenty of food, water, fuel, and personal items. Cruising boats built in this manner are nice because they're very quiet inside even in bad weather, don't bounce around that much, have the weight to carry through a chop, and practically never suffer structural problems.
The sailplan is a simple traditional cutter rig, which is the strongest and I think most versatile rig fora cruising boat. Using a solid wood mast and 3/8″ galvanized rigging makes it quite inexpensive, and very strong. One local yacht rigged in this fashion had its mast hit by a seaplane. The airplane was destroyed, the sailboat wasn't damaged.
The interior is comfortable for a couple to spend alot of time aboard. The pilot house version has a second stateroom for guests, although this area in the bow could also be used as a shop or office area which is a more useful thing.The dinette table can convert to a double, or, to avoid long term guests, let company sleep on deck! Both versions have large galley areas, near centerline sinks, large "heads," and lots and lots of storage area. The pilot house version is the most comfortable inside, and has a separate shower stall.
The plans come as a package showing both canoe and outside rudder sterns, pilot house and short cabin arraignments, wood and steel construction plans, a 3 masted "motorsailor" sailplan, a bow sprit cutter version, and of course my BuildingBook that tells step by step how to build her, and, for those who believe in such things, a long fin and skeg rudder underwater version. A person can switch parts around and build her as they please. Personally, I rather like the short house and outside rudder version because it's the simplest to build and looks so businesslike, although as I get older I'll admit to interest in inside steering….
The photos show the first built, beautifully done by Ruby and Ed Roote, in Oregon. They sailed it to CentralAmerica and back, then sold it in SF. I heard a funny story; apparently the new owner anchored off the Farolan (?) Islands off San Francisco. When they went back to the boat, it was gone! There was a full search by the Coast Guard but nothing. Supposedly A WEEK LATER, sometime very late at night, she came drifting into the military base harbor by Pt. Conception, to the complete surprise of the people when they woke up the next day! Makes ya wonder about this"Homeland Security" stuff all them consultants are making fortunes from…..
OTTER interior drawing (finally) added 11/2014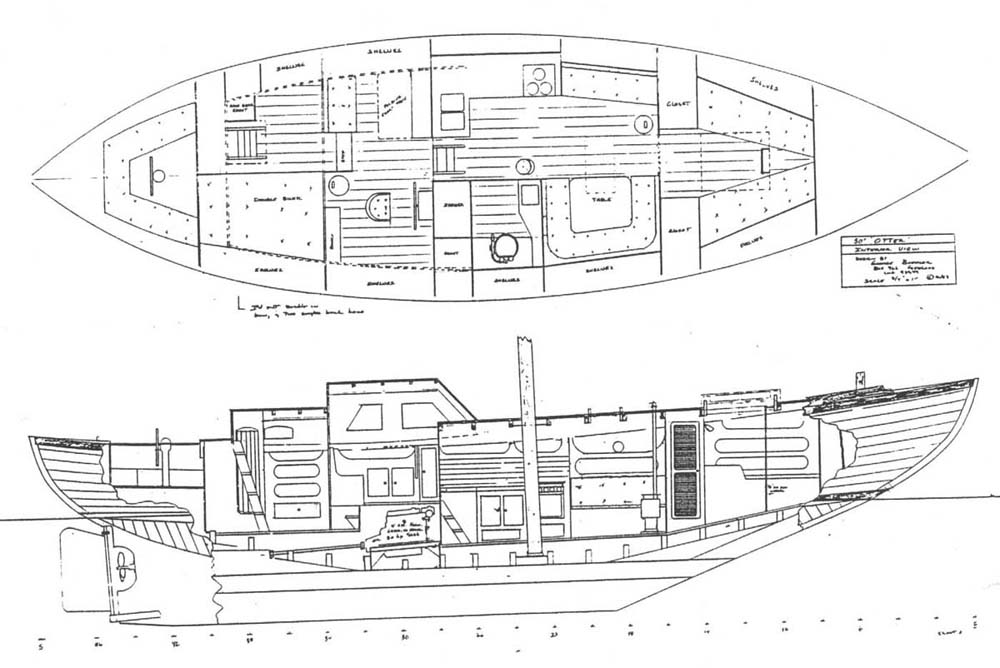 Here's what I think is a wonderful cruising/live-aboard interior. But feel free to use your own ideas!
That's one of the main reasons to build your own boat!
Somebody building OTTER sent me these greatCAD views. I've finally posted them and, I apologize to the guy who did them because I simply can't remember who it was. Wish I knew how to do the program that created these; they're great!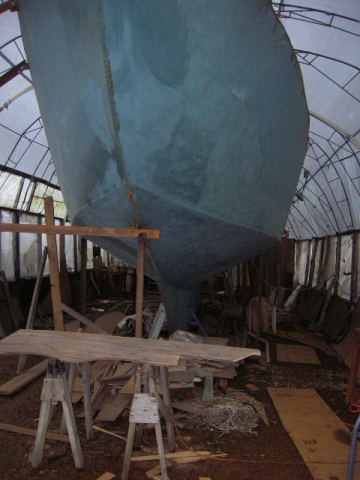 (5/06) Here's some shots of an Otter being built in Bellevue, Washington, by Curt Estes. He's doing a great job of it.
The plan includes ORPHEUS, a stripped down and simpler version. This is a serious gung ho basic cruiser.The example below is steel and very good looking except for that awkward "dodger." I suppose it's practical and once you're aboard the boat you don't see it.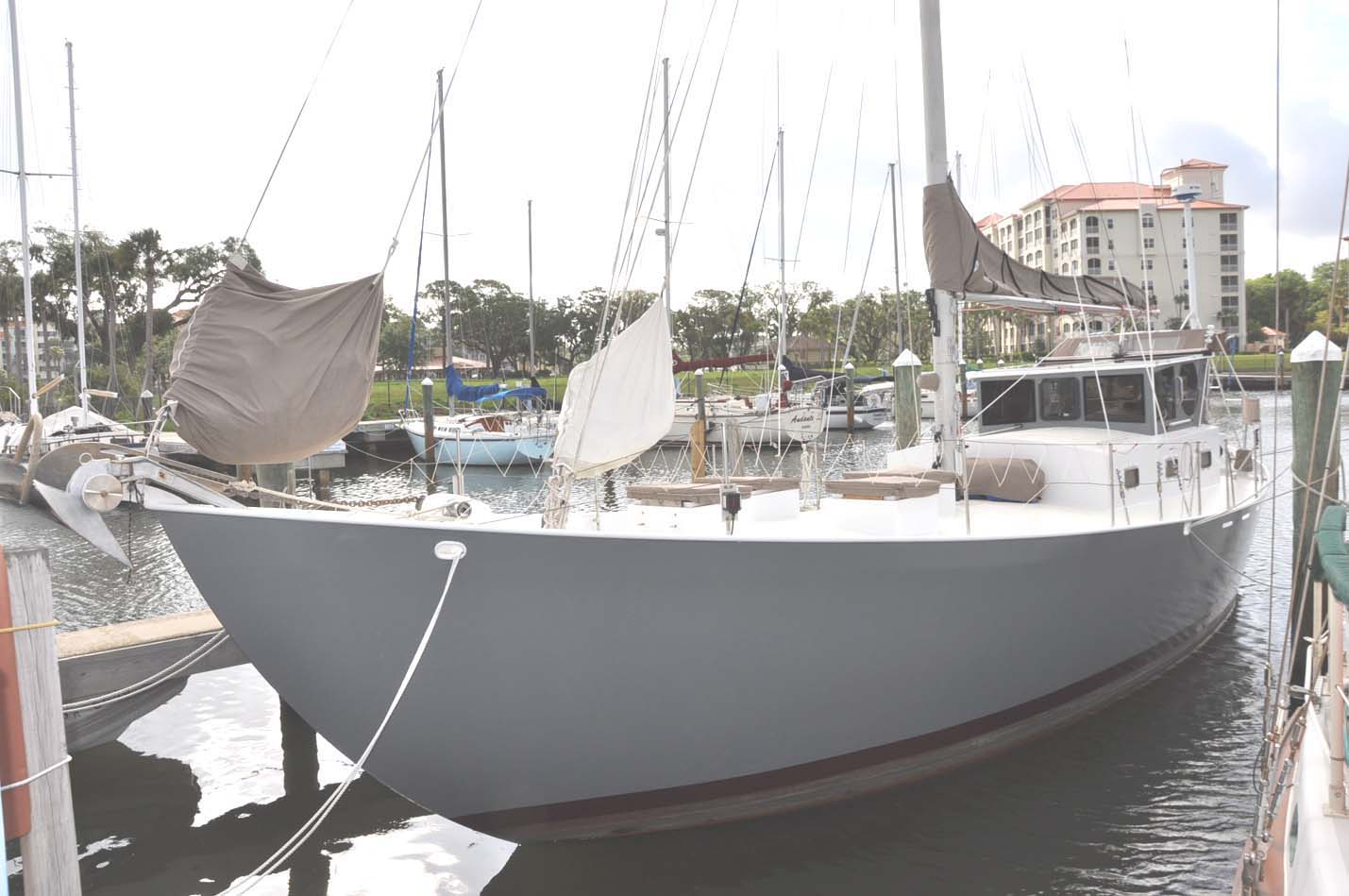 PARTICULARS
LOD: 50′ … LWL: 41′ … Beam: 13′ 11″ … Draft (loaded): 6′ … Displat DWL: 44,600#
Suggested power: 30 HP and up
Plans come showing both versions, and both wood and steel construction.