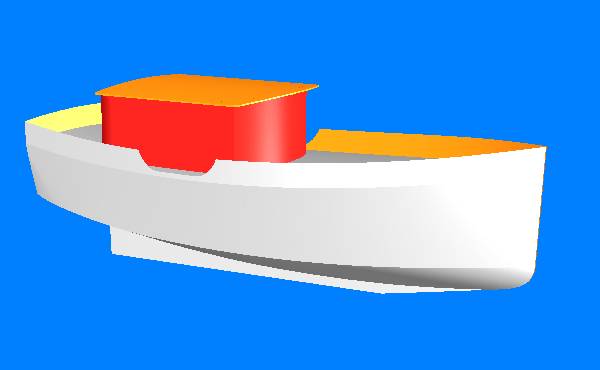 The GOOSE is sort of a "super" DUCK. She's the same concept of simplicity of construction and very robust scantlings, but, at 130,000 pounds at her DWL can hardly be called trim and trollerish. That's OK; she isn't supposed to be. She looks a bit high freeboard for my tastes but that was required to get the full headroom below the deck the full length of the boat. With a broad boot top and stripe covering the bulwarks and down past the rub rail, the high side can be masked. Besides, by contemporary standards, out GOOSE isn't excessive! She's just high for what I normally do. Actually, she's graceful! Look at this rendering below. Graham Shannon made a "cutting disk" for her which is available with the plans for an extra fee. Part of the process is coming up with things like this as well as the one at the top of this page. Nothing shows her off better than this sort of 3D stuff. To me she has a grace yet a brute power look about her and I can see her easily holding her own amongst the crab boats and other big commercial craft in high latitude ports.
This was a custom design for a guy who knew just what he wanted and we worked together to make it. You'll see three versions; his, and two others that I did….. No interiors are drawn yet. Tim had his own ideas and neither of us saw any reason why he should pay me to draw his interior in. That's a way of cutting costs on custom plans. Since the payment process is for stages, any of the stages YOU want to do can be deducted.The interior and also the rigging plan are good examples of places you can do the work yourself.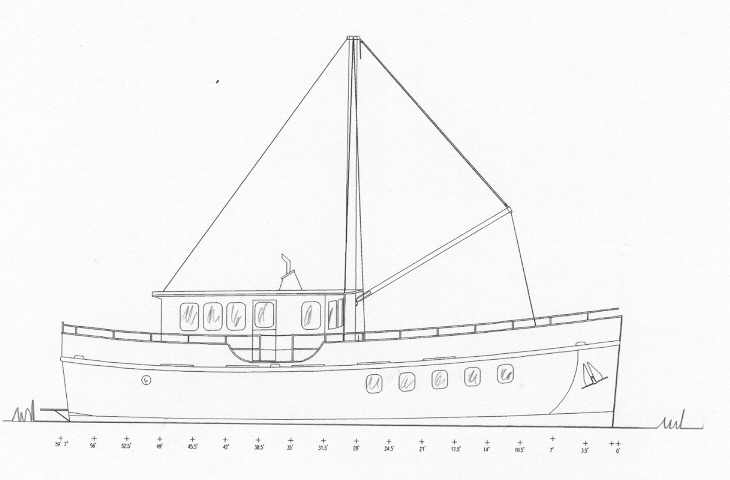 This view above is what Tim wanted. Lots of living space, a large shop forward with a cargo boom to hoist stuff aboard and down into it, and a large deck house for steering as well as lounging. This is the very simplest arrangement and will be a fine live aboard.
I liked it but decided that since she could be a hell of a houseboat, lets MAKE her a real one! Hence this idea which has the full below decks living area, a big deck house, then a steering cabin above that. This makes her 3 full levels.I like this.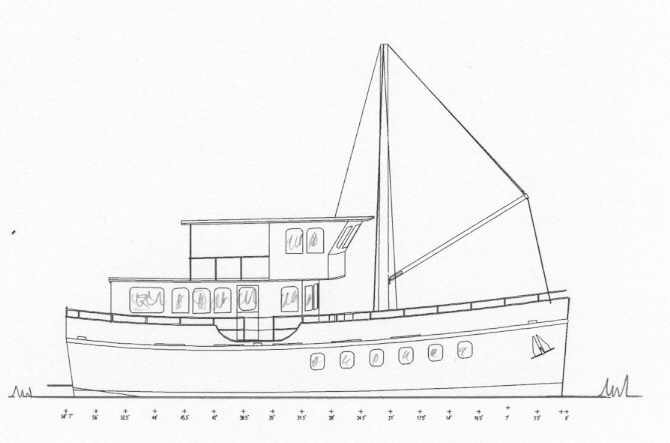 Finally, a guy way north in Canada liked the massiveness of the hull but wanted a more "duck-like" superstructure. So, I took the house and rig from the 55 DUCK and planted it here. I lowered the bulwarks to 12″ to make a lower profile look (but still too much freeboard to my eye). The results are this idea below, which might end up bouncing among the icebergs. Hey; to each his own, you know? And that sort of fantasy, hearing about anyway, is what makes life interesting!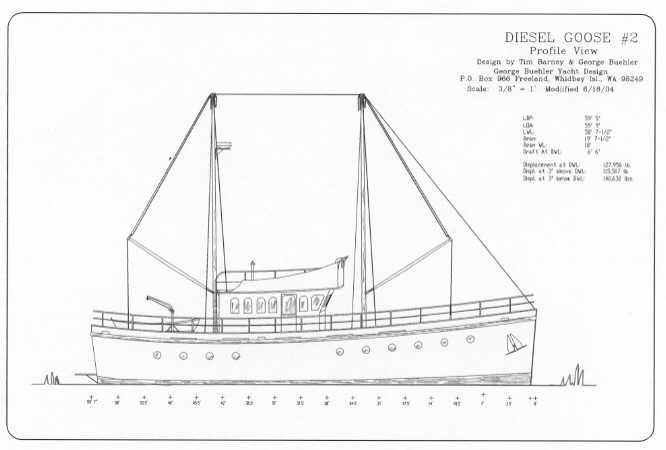 Here's the Lines of this ship. As you can see, she is very straight-forward, and rather "Duck-like" except more so!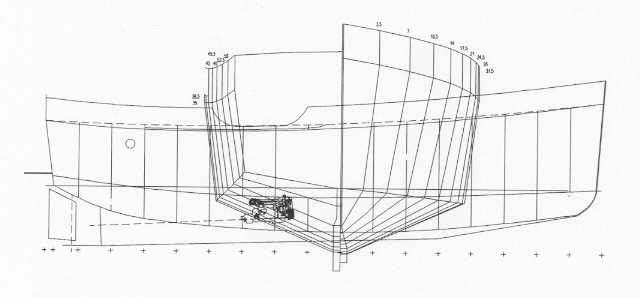 Particulars
LOD:60′ …. LWL: 58′ 7″ …. Beam: 19'7″ …. Draft at DWL: 6′ 6″ …. Displ.at DWL: 127,956 lb.