12/12/17 new photos added documenting the building of a wood 38, in Brazil
| | |
| --- | --- |
| Making time | |
This was the very first Diesel Duck and the following spiel is the description I wrote back then whenI sent the drawings out to various magazines. It repeats some of what you're read elsewhere (so what else is new) but I decided to leave it all in as the enthusiasm this was written in is still fun (for me anyway) to read today!
This stout little motor ship was designed for Pat and Joe Blackshaw, a long time live aboard couple who were retiring from their jobs and decided to swap their sailboat for a cruising power boat.
The goal was to create comfortable full time living space for two with enough sea-keeping ability to be reasonably safe cruising the coast between Alaska and Mexico, all in the smallest length possible. 38 foot seemed to be the shortest we could fit a real adult sized interior in, and is about as small as I'd want for cruising the North Pacific coastline.
DIESEL DUCK has a full displacement hull. She's not meant to plane, so her stern lines end above the WL at the transom so the hull is actually double ended at the WL and won't suck the ocean behind it. She slides easily through the water under low power.
Although her 80 HP Cummins can power her into as much weather as anybody aboard would care to buck, she'll normally be throttled way down. This being the case, a version showing the wonderful Sabb 30 HP, with compression releases and hand starting ability, is also offered with the plans and is how I'd like to build the boat. The problem with this is that SABB discontinued the engine a few years ago. I'd look at a 40 or 50 HP Kubota these days.
According to my computer (new 2017 update…),in FLAT calm conditions, she should idle along at 5 knots, using only 16 HP, which would take about .75 gallons an hour. I once sailed from Puerto Vallarta to Honolulu and for the first 2,000miles the ocean looked like a lake, so I know there's many times when low power is all that's needed. This gives her a range of over 3500 miles. Keep in mind 5 knots is a DREAM for a sailboat….If you bump her up to 6 knots it will take 27.5 HP which will be over 1.5 gallons an hour. Now, if for some reason you have to buck against it, the reserve HP is there to do it, but of course the fuel consumption goes up as you open the barn door. For example,50 HP could give you 7.75 knots but cost you close to 3 gallons an hour. However, Pat reports that she cruises at almost 8 knots at just under 1 gallon/hr., so I guess the computer is overly cautious. These of course are calm weather figures but still give a good idea about her range. In practice, a cruising powerboat will be like a sailboat; NEVER going to weather unless you really need to. Why? Because regardless of what the sailboat ads say, pointing against any sea is terribly uncomfortable, although more uncomfortable under sail because of the heel.
She is quite heavily built and plans are available in either wood or steel. Versions have been built in both. I like steel boats just fine but I'll likely always be a (unrepentant too!) wood boat guy, so all my designs are also available in wood. But you decide! Wood still makes sense for budget minded home builders….
Unlike far to many so called "cruising boats," this boat's prop and rudder are completely protected by her keel and she can take groundings (she has!) or even collisions with anything near her own weight without damage. Throughout the design thought was given towards strength, simplicity, and reliability of systems. Plus, the hull lines were "faired" by computer and the plans drafted using AutoCad which makes them accurate to 1 mm, so as a result the boat is quite straight forward to build and will be simple to maintain. For example, she has a very large outboard rudder which is unusual on powerboats these days.This rudder is very stout, practically foolproof, doesn't have a thru-hull fitting, and increases the waterline length by 2.5foot which gives more speed and fuel economy per HP. It's large size makes the boat extremely manageable, even in reverse, able to be steered when barely moving. She does have a bow thruster as a backup but maneuvers so well with the rudder alone in tight quarters that the thruster isn't used much at all and I wouldn't buy one if I was building her.
There are two interiors offered although a builder can change her if he wants! I like the version with the 5′ x 7'bed in the stern, but the original was built with the two singles and head in the stern. Although two overnight guests can sleep in the forward cabin, the interior was planned out to be comfortable for two to live aboard.
The living area and sleeping area are completely separated by the wheelhouse. The stern cabin has two good sized bunks, lots of clothing storage, and a large "head" (original version only) with a vanity and shower. The wheelhouse has a couch and an easy chair, with a centerline steering station. The engine room is below, and is 6′ long with 6′ of headroom between the floor beams and the keel. Fuel tanks run on each side of the engine room, and their top serves as a tool bench on the starboard side, with storage shelves for lube oil, parts, and other items you don't want to keep in the living area, to port. The engine room has watertight bulkheads on each end to completely seal it off from the rest of the boat.
The forward area of the boat is the galley and main living area. There's a 3 burner propane range and enough counter space to be able to work. The rest of the cabin is devoted to lounge space, with two "easy" chairs, and a table and couch. The back of the couch folds up to make a second guest bunk, and the table has a folding leaf so it can feed four people if needed. Between the front wall of the house and the "crash bulkhead"making a backup chain locker (the primary anchor system is a cable drum on deck) is a 36" "clean storage" area for linens, out of season clothing, and so forth. There's a very deep bilge that serves as a "storage locker," with plenty of room even for a rolled up Avon raft. The hull is heavily insulated, and thanks to her little diesel heater stays warm and dry inside regardless of what's happening outside.
The outside appearance is pure "work boat" and her plumb stem, vertical pilot house, and large flush aft deck with cargo boom that has an electric winch to launch her skiff or to swing a bicycle to the dock, make her a real standout. Everywhere she goes people admire her.
She was built in 5 months by Millerick Bros. COAST MARINE CONST., Catati, California. Soon after construction started Joe died, and Pat took over and ran the project herself. She lived aboard in Alameda California for 4 years and in spring of 1996 sold the boat to a guy who plans long cruises. Pat had a lot of fun with the boat and reported that DIESEL DUCK proved to be all we hoped; a comfortable and fine sea boat, giving a real feeling of security even in bad weather.
PARTICULARS
Length on Deck: 38′ 3″ LWL: 36′ 8″ Beam: 12′ 9″ Draft: 4′ 9″ Displacement: 32,600 lbs. Power: 50 to 80 HP
She floated a bit low so the steel version displaces probably 3 tons more.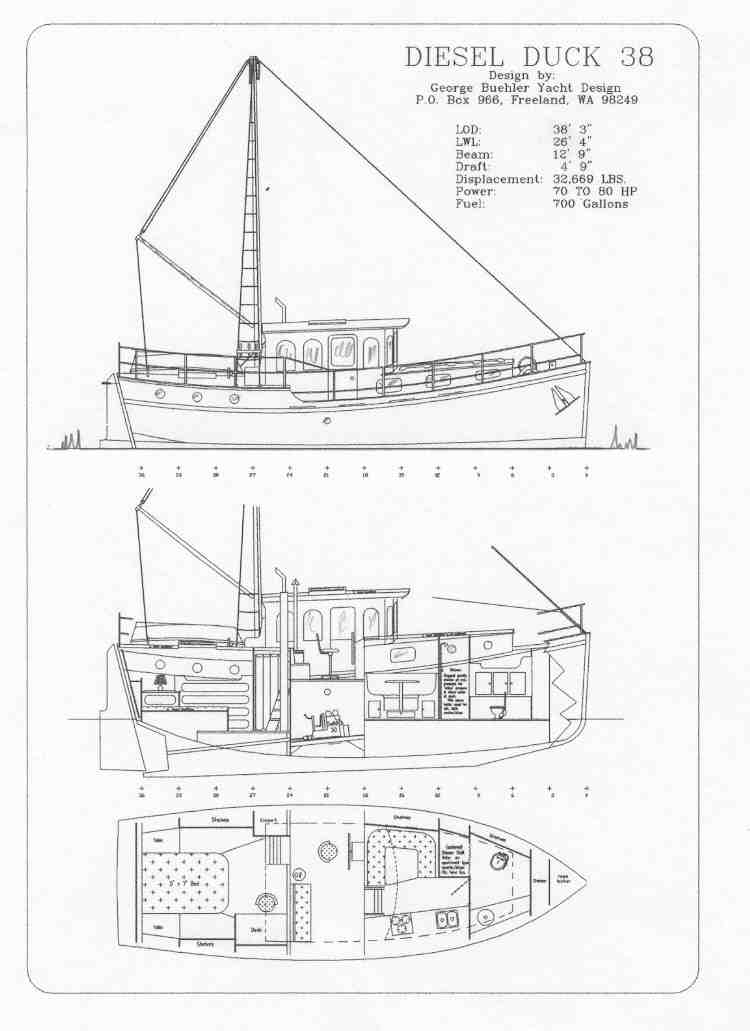 Here's some pics; I loves this little boat; she was the first, so to speak….
One guy said the pilot house windows make her look like "Little Toot." Well, what's wrong with that!
A business like helm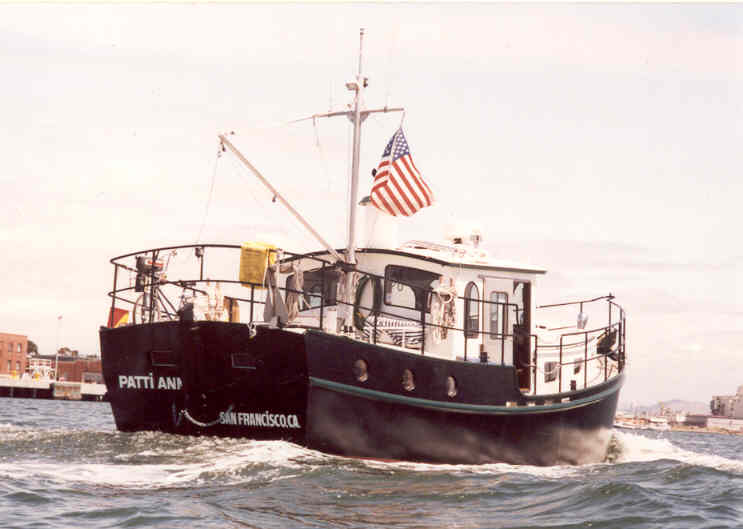 Loafing along on San Francisco Bay…..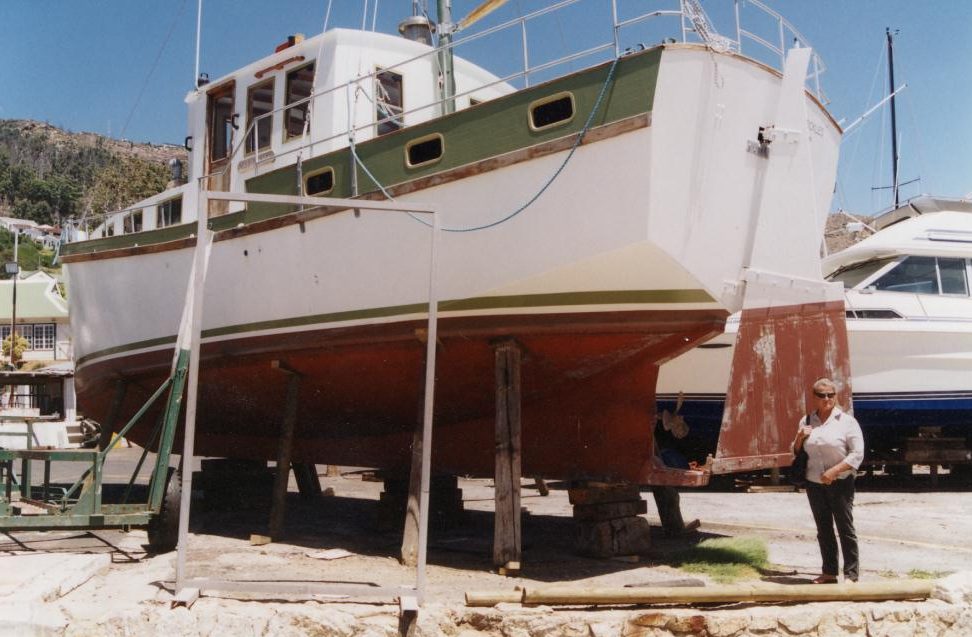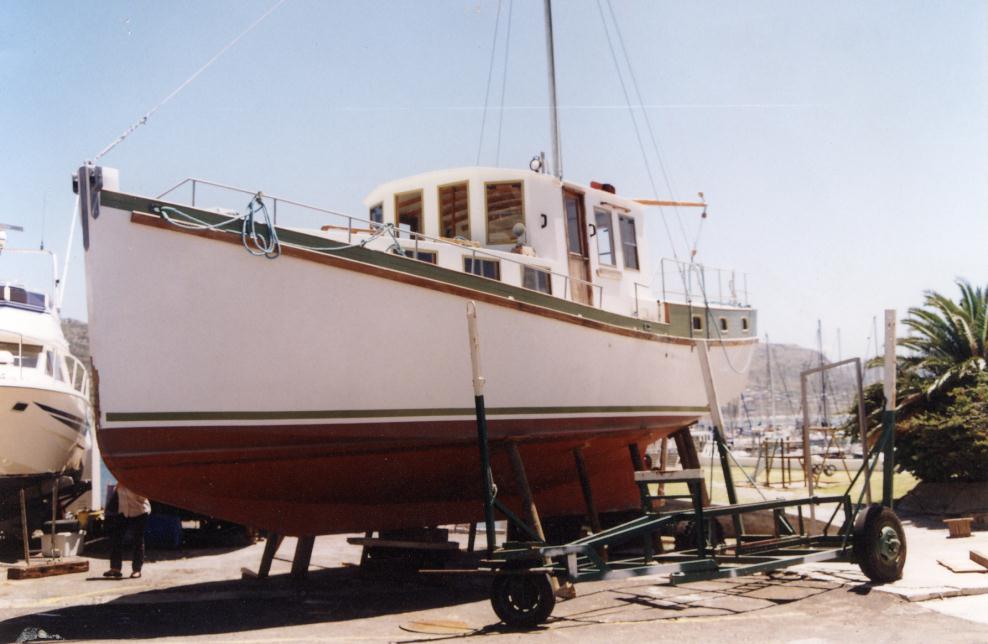 Here's the first wood 38. She needs the "Little Toot" windows in my opinion…… She was built by Roy Mcbride in S. Africa. His company is CKD Boats. They are thinking about offering kits of these boats. For more info email him at roy@comlumber.com
Series of Photos showing a Wood 38 DUCK being built in Brazil