Last edit 7/16/2012 New Interior photos
I've written before how no design springs from a vacuum and ALL designs are a combination of a lot of folk's ideas, in most cases, going back years and years. This boat is MY combination of great ideas by several people. Bill at Seahorse's ideas on their first 44 and then the 46-plus, Les at Townsend Bay Marine, building the first 45-plus, added some new ideas he and Ross, the boat's owner, worked up. I liked the way those boats ended up but saw some things I'd do differently. I started drawing out ideas that took features from all of those and Paul Bubak decided he liked what was starting to appear. Of course he had some ideas that I liked, and the result is this boat, the 41-Plus Diesel Duck!
This "plus" and "2" stuff sounds silly but it's accurate way to label them because it means the Length on Deck "plus" a bit since the deck is cut off, making a swim step that is actually part of the boat rather than stuck on the back. This is nothing original with me of course and is quite common on new boats. I think it takes a while to get used to In fact, I originally thought it was ugly but the look grows on you because it is very practical. Now I actually like it!
This design was hatched from the 44 Evolution DUCK. Changes include being "cut off" to be a little over 41 on deck but keeping the longer WL. Then, I deepened the rabbet aft a little and widened the WL a bit in the forward and aft sections which increased her displacement a little over the 44. The almost abruptly upswept chine and rabbet has been criticized by some who say it "slows her down" because her "run" isn't flat. What folks who talk like that fail to understand is this is NOT a planning hull and was never meant to plane or even "semi-plane". This is a fairly heavy displacement cruising boat. Having that extra buoyancy in the stern is important as it helps keep her from "squatting" under full power while keeping the transom for the most part, out of the water (that slows you down!) and helps prevent broaching if you're in bad conditions such as crossing a west coast river bar when you shouldn't. The first of these boats hit reportedly 10 kts with her 109 HP Volvo so this hull form do seem to work OK!
| | |
| --- | --- |
| | I just had a small camera so this telephoto shot isn't the best. You get the idea though I think…. You don't want to cross it today! |
Speaking of a breaking river bar (mentioned above)…. I took these photos February 2009 on a calm day, in Bandon Oregon. Bush the 2nd, early in his term, quietly cut all funding for west coast river dredging except for the Columbia, and these photos show what has happened to many of our ports; the entrances are unpredictable and dangerous. I hope this is one of the many many infrastructure problems we face that the new administration will see gets dealt with.
| | |
| --- | --- |
| | Here she is with a vertical front house. The forward sloped house is now common but i also like this old time traditional look and the plans show her with both. YOU decide! |
Here she is being built with the vertical wheelhouse as shown in the drawing above. I think I like her this way.
| | |
| --- | --- |
| | And here she is with the forward sloped pilot house. This looks fine too! |
Both versions can have a roof bridge, and I personally would have one. This is very traditional, plus, it gives better visibility than the wheelhouse has for docking and entering narrow channels. The pipe railing idea shown here offers minimal windage, and canvas side curtains could be attached if you wanted to, for normal use. I'd have a folding chair with a tie down up there. Maybe a bench? I tried drawing in a normal flying bridge but it made her look "chunky". I've read about pilot boat and tug captains washed clear off the roof when crossing the Columbia river bar back in the early 1900s when "men were men, by golly!" To acknowledge the 21st century, the drawing above shows a heavy pipe rail around the whole house!
| | |
| --- | --- |
| | Here's the Seahorse SEADUCTRESS's (a 44 DUCK) roof bridge that David Katz came up with. David is an old time seaman and doesn't need any pansy railings around the house. He single handed this ship on a two year trip from China to the US, up to Alaska, then back down to Washington. As I said, this sort of open air helm was common on old time tugs, and frequently was the ONLY helm! |
Of course she has my "Modified Dhow" sailplan. You'll read a lot of stuff on the net about why it's no good and why other arrangements are better. If you read my The Troller Yacht Book or my discussions on my web sites, you'll see why I like it. If you disagree, fine, go for what you want. I like it and I ain't interested in arguing or even discussing it further than what I've already written about it!
I drew an interior I would want to live aboard.
I originally had mixed feelings on the passageway idea between the cabins but after seeing the way Seahorse placing the galley there opened up living area, I've become a convert.It gives lots of extra interior space because the galley is in the passageway. It does detract from a really huge engine room, but, she still has a huge engine room, much bigger than many boats her size. Oh, there's a removable panel in the wall next to the engine giving easy access to that side of it. Keep in mind this DUCK was drawn for me, not as a commission so what you see are ideas of how I'd do it. Of course if you build it you're free to change things how you please. For instance, #1 has guest bunks in the bow, something that to me is a complete waste of space.The table can be made so that it drops down to make a guest bed.That's enough. Why mess up the interior for people who are rarely there?
If you want to isolate the engine room with watertight bulkhead sit would require two, one on each side of the passageway. Frankly, with a heavy steel (or wood) hull I don't worry about that sort of thing. Sure, if you're headed for the Arctic that's another issue but even then, this boat's 1/4″ steel hull backed up by closely spaced longitudinals, could take a hell of a blow without damage. But WT doors can be fitted there if you want to. As you see below, her construction plan is quite stout!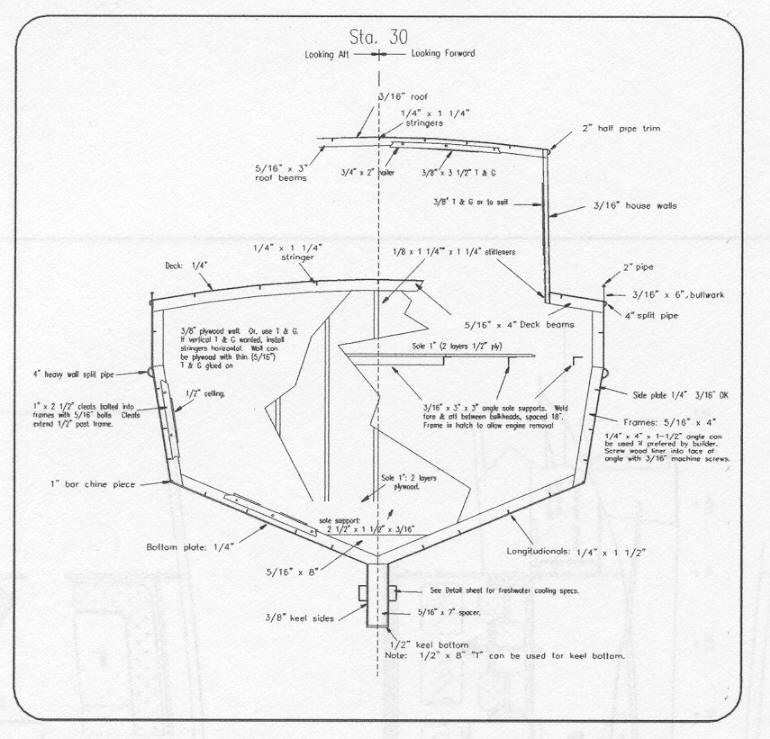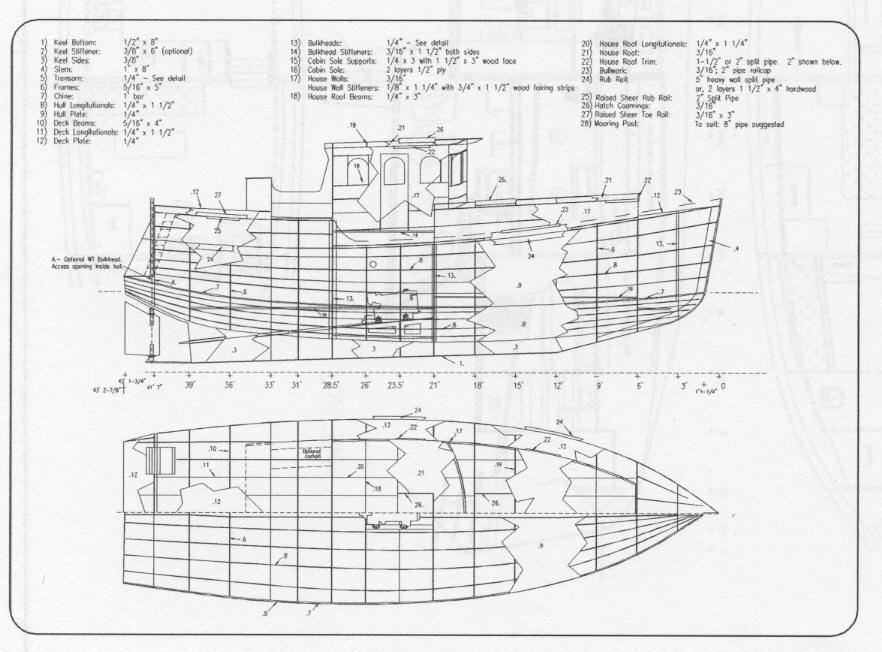 Several DUCKS have spent time banging on the rocks, one, in the S. Pacific, did it for a week before getting towed off. No damage either. When cruising it can happen so your hull should be built to take it….
| | |
| --- | --- |
| | I really like the cockpit aft of the house that Seductress, the first Seahorse 44, had. I believe that was the original owner, David Katz's idea and I've shown it on most of my designs since. I do NOT like the permanent awning over this cockpit since it makes it difficult to use the sail rig. Unless of course you go with the Bubak version (below). |
Paul, who's idea for the boat is shown below, likes the hardtop. I know it makes sense and I'll probably come to appreciate it but right now, I'd look at a folding awning first.It all depends of course on where you're going to be using her.I've sat outside in enough sailboats where I like sitting in pilothouses these days. But I agree the hardtop makes the cockpit more of a permanent living area of the boat. This drawing shows the original house design. The new one, as the other drawings show, is a bit sleeker. I ALSO like the "Bubak Modification" as I call the junk rig below. Actually, there's no reason you can't have both spars!

The hardtop and the Junk rig, shown here on the original house.
I'm very pleased that Kaya Cakar, at Asboat Shipyard in Turkey, is custom building my designs, and the boat in the photos here is from his yard. You can find his web site on my LINKS section. He offers excellent prices, a fast delivery time, and delivery in Izmir which is right in that wonderful Turk and Greek cruising area. It's also relatively inexpensive shipping to the Gulf coast of the US (or anywhere else) if you'd rather it was shipped. Since he is a CUSTOM builder he welcomes any custom touches you may want to do to yours. And, all of his boats are built to meet the European Union certification standard, which while it has some goofy requirements, means his boats can be owned or sold anywhere and easily insured.
HYDROSTATIC CALCULATIONS
LOA 44.20 ft
LWL 42.63 ft
Bmax 14.06 ft
BWL 13.78 ft
Dmax 5.26 ft
Volume 962.69 ft3
Displ. 61612.27 lb.
COEFFICIENTS
Prismatic 0.656 Block 0.312
MOMENTS
Trim 1 in. 5979.7
Heel 1 in. 1692.9
Trim 1 deg. 53589.3
Heel 1 deg. 4903.3
RATIOS
L/B Ratio 3.09 D/L Ratio 355
AREAS
Waterplane 456.76 ft2
Wetted Surf 676.57 ft2
CENTROIDS
LCB 23.26 ft (52.0% aft)
LCF 24.26 ft (54.3% aft)
VCB -1.33 ft
On to Construction photos of Building the first 41-Plus at Asboat, Izmir, Turkey.
If you want to skip the building stuff and see her in the water and finished, click HERE!