At 55′ our Duck becomes almost palatial, especially if you follow my thoughts about interior design which boils down to making it comfortable for THE OWNERS rather than devoting space to spare bedrooms. It's an interesting fact that if you want to see good small space interior live-aboard design, don't look at boats. Go to an RV show. The only time you see guest beds is in low end "bunk model" trailers. Practically all RVs have only one bathroom and only one bedroom. That includes $400,000 motorhomes! They have the space for comfortable living. Company can sleep on a dropped dinette table or a couch. The other 95% of the time TV designers and buyers know they'll be aboard without company, and the living space is set up to be good for that! But as I always "harp," one of the main reasons for building a new boat is to be able to set her up as you please and if you want room for company go for it.
This boat's 78,000 displacement makes her a substantial craft. Everything about her is big. She has a real "living room" and I put an electric piano in it. That Yamaha DX7 can sound like Maynard Ferguson's orchestra; it's something.
Her owner's cabin is quite large and has a second head. I put it in because the folks who ordered these plans wanted it (they also want a guest cabin) but it costs you the desk. But that was taken care of by putting it in the pilot house.
This boat's size allows her to have a wheelhouse with a 12′ long floor, which is damned big. There's the room for a large couch and table that can convert to a double bunk, as well as a desk more than big enough to be a "home office" area. The pilot house has a sliding door on the stb. side opposite the helm, and an aft door leading to the back deck. The side door is a help in docking, and the aft door is a good access point in bad weather.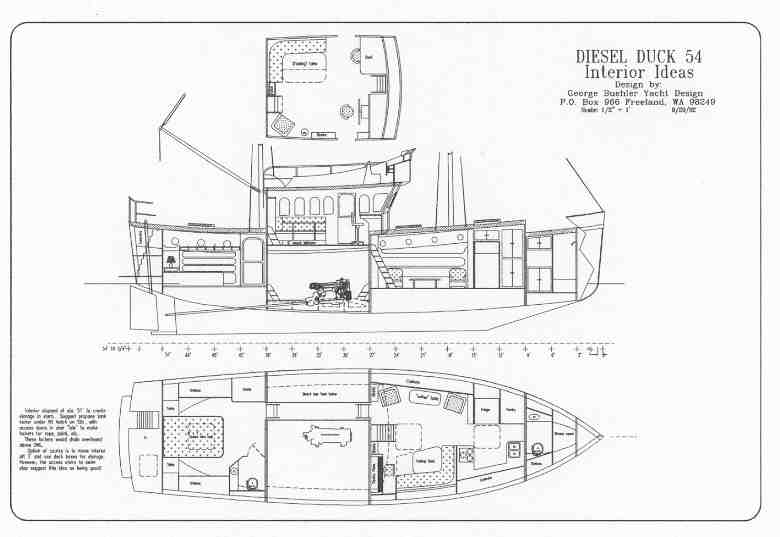 Note I stopped the interior 3 plus feet from the transom. This gives her a stern "lazarette" where there can be kept outboard gas cans, propane tanks, dock lines, and so forth. I also gave her a the "Seahorse Inspired"stern stairs leading to the swim platform. You can of course leave off this stuff and build the stern cabin clear to the transom.That would add a good deal of room, but I think these features would be a plus, and as drawn, her stern cabin is huge.
Being a Duck she of course has a backup sailplan. She's big enough where two masts fit her well and look great. I'd have"ratlines" up both of them. I might even put a crows nest on the aft mast. That, as well as the fly-bridge, would make navigating through shoal waters easy. Besides, it would be fun to climb up there and "perch."
Now of course I had to do a "Bubak Modification" and here she is in that dress!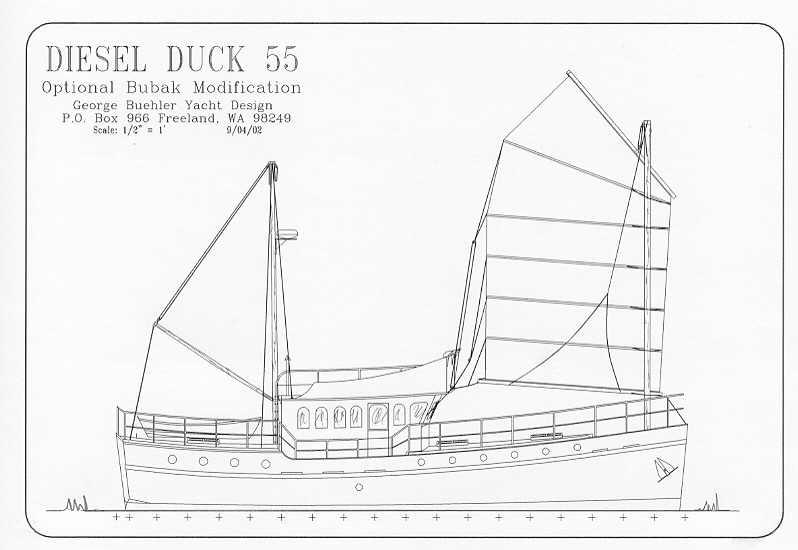 Power is a 173 HP Deere or equal. This seems plenty. "Projected" power to speed requirements, in calm conditions, are:
V/L …………. Knots ……………. HP
1 ……………. 7.32 ……………… 15.2 HP
1.1 ………….. 8.04 ……………… 23.4
1.15 ………… 8.40 ……………… 28.7
1.20 ………… 8.77 ……………… 37.2
1.25 ………… 9.13 ……………… 49.9
1.3 ………….. 9.5 ……………….. 67.7
1.35 ………… 9.86 ……………… 92
1.7 …………. 12.42 …………… 12416 HP (just for fun)
Keep in mind this is in flat calm conditions. But since most cruising is with the weather, and, if it was meI'd be using my auxiliary back-up sail too, these figures are realistic for many situations. But if you're "bucking"the weather you'll be revving her up, and the 173 HP engine has the reserve you'd need. Just remember fuel burnt andHP developed go hand in hand, and as the above figures show, a small change in speed can result in LOTS more fuel used. Or saved.
Particulars
LOD: 54′ 11″ LWL: 53′ 4″ Beam: 16′ Draft: about 6′
Displacement at DWL: 78,371 lb. Displacement at 3″ deep is 88,423 lb and at 4″ past DWL is 95,202 lb.
Complete Building Plans are $2,975