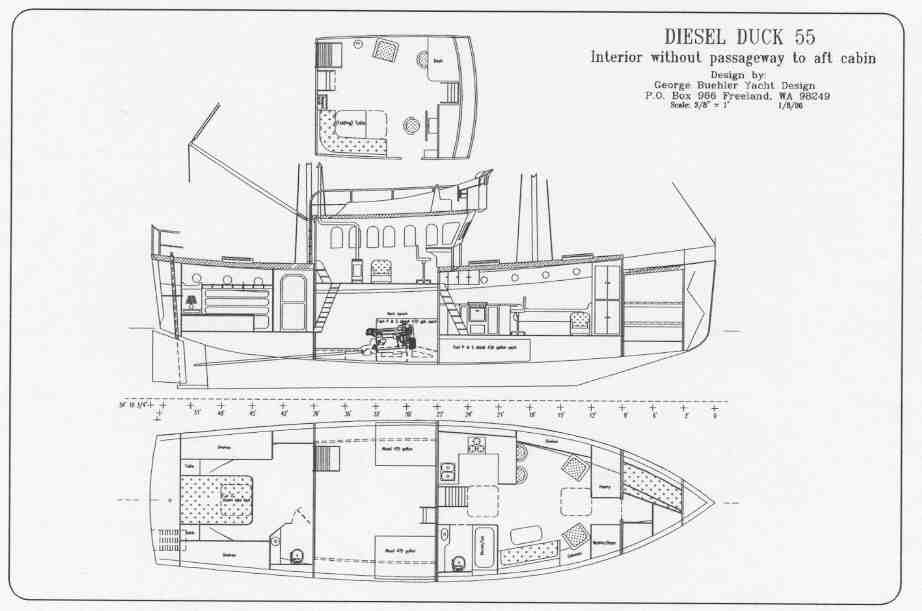 I'll get more drawings posted soooon but for now, here's a newer interior idea. I like the passageway between the cabins shown on most of these boats but I also like the huge engine room offered when you don't have the passageway. It's all a trade-off and you can do it either way!
A Tour of the new 55 DIESEL DUCK
On 10/10 I was lucky enough to be able to drive the new 55 Diesel Duck "AMEDAUS" from Seattle to Pt. Townsend. It was a fine day trip; we ran at 9.2 knots (with the tide) at 1500 rpm. The landing was a bit fun; I almost took the bowsprit off the 80 foot schooner ADVENTURESS but no damage happened. It sure could of; this ship has some weight to her! She also has a "presence." Everybody who saw her complimented us. She isn't fully commissioned; once the spars get up she's going to be something. Here's a series of photos from that trip without much (if any) commentary; you can see for yourself what's she's like! Oh, these first two of her getting ready to be loaded on the ship in Hong Kong.
| | |
| --- | --- |
| | The owners opted for a swim platform and ladder rather than the recessed "staircase" shown on many of the DUCKS. |
| | |
| --- | --- |
| | The wake at 9 knots! |