5/12/10 Miscellaneous Photos in NO order!
Seaductress at the dock in Canada.
Note the double axles below this 41-Plus in Turkey, getting her primer paint. This has always been a thought of mine. Weld brackets to the keel you can attach several "low-boy axles" to her. Weld a serious 5th wheel "knob" to the bow stem. You want to cruise the Pacific but you're in the Atlantic? No problem! Cruise to Texas, haul out, rent or hire a Peterbuilt, buy some old axles and wheels. Texas is pretty flat and you could tow across to the Sea of Cortez with no problems. Remember Tristan Jones and his "Incredible Voyage?" If not, find and read it! Dragging a DUCK across Texas would be a "walk in the park" compared to what Tristan did!
A Seahorse 462 Sedan and a 382 on a cruise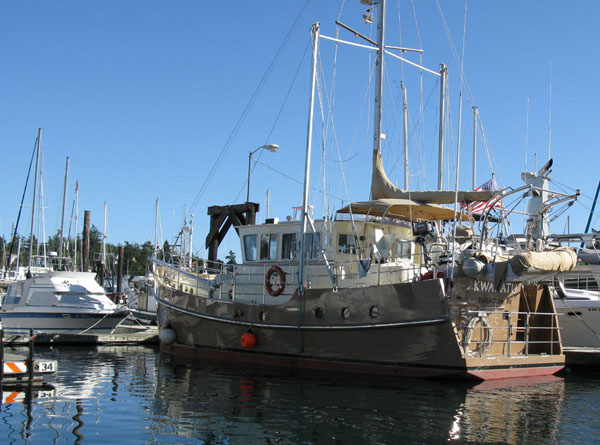 The Fitch's 462 arriving in Anacortes, Washington, after crossing the Pacific from China.
Check out her Panama Canal photos!



Ben Ben's 382, somewhere in the S. Pacific.
| | |
| --- | --- |
| | The original 38 has a new interior! |
| | |
| --- | --- |
| | This is the original 48 DUCK design, stretched to 50, and a huge deckhouse added. It doesn't look bad really but that house is to big and I suspect makes her roll a bit! Just the same, this boat, built in Canada, has gotten around. This shot is in Costa Rica I think, I forget. |