Revised 12/5/07
The 382 Diesel Duck!
This little ship is rapidly becoming one of my favorites. She's sort of an Evolution version of the original 38, but a but more so in that she really is a new design, beamier and with considerable more refinements. I don't sell the plans; she's only available as a finished semi-custom production boat from Seahorse. That's because they had a great deal of input in the design. She's another example of a good idea becoming better when several people who all like the concept participate….. She will make a fine cruising boat for a couple or a single hander, able to go pretty much wherever you want, and rugged enough to stay out of trouble. When we did the design there really wasn't much if anything on the market like her. At this writing (Nov. 05) there are already three of these little ships under construction.
Here's the letter I mentioned back on the Stock Plans Page. (6/26/06)
I'd like to say thank you for designing this boat, it really fits what I was looking for. I'm not a great sailor, I work in advertising (I produce music and ad for TV and radio) and I've lived most of my life in a Big City. But my uncle took me windsurfing when I was 12 and since then I'm hooked on the Sea. I spend all my free time traveling to go sailing and I've known for a long time it would end up on a boat. So after reading your website, I knew I had found what I was looking for: an ocean going VW BUS!!!! I followed the only thing I really trust: my instinct and went for it! I had a good "feeling" with Bill while visiting him in Zuhai so I chose him. Haven't been disappointed up to now.
To tell you the truth, I'm not sure I'll go back to France with the boat. The goal is to sail down through Indonesia to Australia for the first year, then Fiji and French Polynesia. I'm looking for my little paradise, really fed up with life here in Europe. Wish I had a Green Card, I'm made for a country like yours!!! I'd also love to go to British Columbia, just love the Northwest. I use to go every summer to the Columbia River for sailing, I think it's the most beautiful region in America !!!
Well , enough with chatting , I could talk about my dream coming true for days and I don't won't to bother you too much. will keep you informed on my "condition" (did I sink the boat on the first reef???)
cheers
Ben
p.s: I'm thinking of giving the boat a "duck" name: "Duck Rodgers" is first on the list, followed by "Peking Duck"…
This is George now. I suggested he name it after the greatest knight there ever was, a French guy by the way, Sir Lancelot. I'd call it Sir Dukalot…… Hey, I like it, but then I also liked Mother Duck…..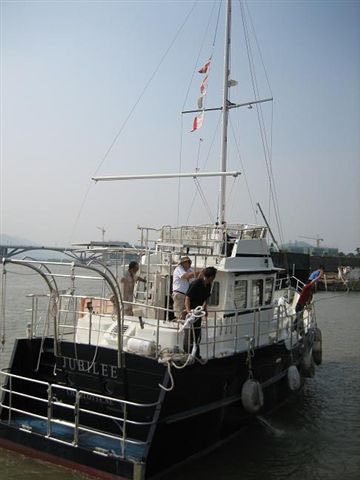 Here's the first 382 getting commissioned.
 

The 462 is popular but is both bigger, and more expensive, than many people want. We thought a smaller version would have a place hence this boat, the 382. As usual, we started with my design and then Bill tweaked around with it to make it more personal for him. He is much better at figuring out fine tuned details than I am.


Here's her arrival at the shipping dock where she was fitted to a cradle and then shipped to America.


I'm very pleased with it although I will say I think Bill tries to put to much stuff in it. These DUCKS are meant to be ocean cruising boats. An ocean cruising boat needs a real galley. And any boat you're spending time in needs a spacious bathroom and a big bed. The RV industry understands that very well but few boat builders and designers seem able to get it. So if you talk with Bill about buying one of these don't let his creative enthusiasm blind you to what I said above. You want a usable galley. That means a 3 burner stove. Not because you need three burners. It's because you need a real oven. You need a sink big enough to easily wash dishes in or put a big pot in if rolling in a seaway. I used to like double sinks but not any more. I want a deep single. And you want a head wide and deep enough for a typical overweight westerner to maneuver in. Anything less is no good to live with and defeats one of the concepts of the DUCK. And that is, being a COMFORTABLE cruising home! This boat accomplishes that quite well and would make a fine cruising ship for a couple. I personally don't think she is big enough for more than a couple to spend extended time aboard but then I am both anti-social, and needing my elbow room.
The two burner stove shown here has been changed to a three burner, giving you a good sized usable oven. The fwd. cabin bunks on one side might leave room for a desk on the other, making the room semi-usable as an office. If it was me, I'd loose those bunks in the bow and make it a big bathroom. The word "head" implies broom closet to me….
NEXT to More 382 DUCK Photos
Back to Seahorse Ducks