Diesel Ducks
by George Buehler Yacht Design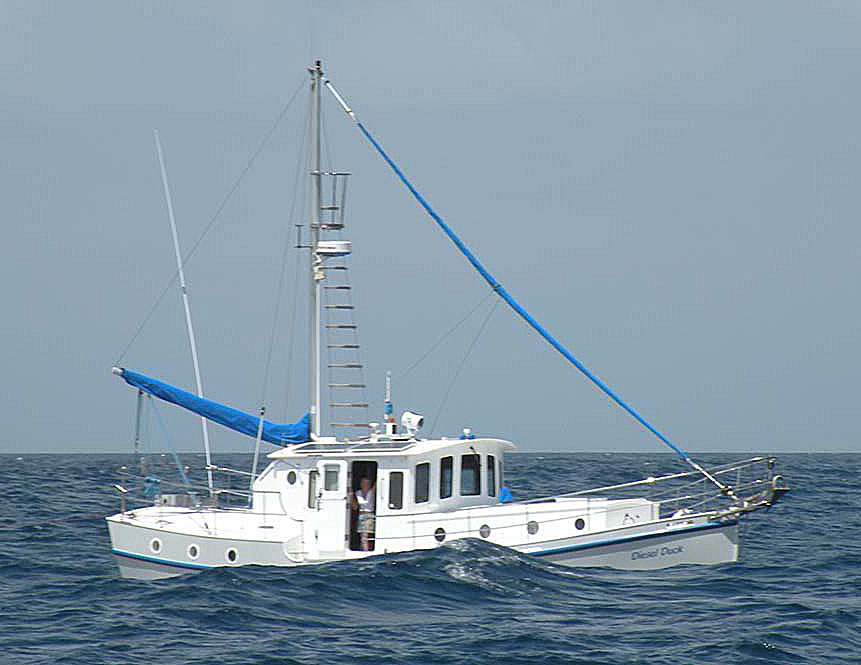 Cruise Report from The High Seas!
2/19/09 Marlene & Benno sent this email via Satellite (what a world!) in the original 41 as they were approaching Cape Horn. Note the well dressed German Yatchswoman at the door! Photos of the interior these folks built themselves posted here.
April 2013, a Seahorse 462 DUCK "Duckin A", owned by David King, was headed to SF from Ensenada, Mexico. Here is the report Jeff Appel sent about the trip. David is a retired ship captain, and Jeff is an experienced cruising powerboat owner who also owns a 462. Off Pt. Sur, just south of Monterey, there were only two boats out there; David, and an 80 tugboat which was swamped and sunk.
The 1300 mile trip was terrible! 17-20 foot breaking very steep short interval head seas with 30-40 knots of wind, down to 3 SOG knots at times. We were two days late to the boat show. We used bouyweather.com for our forecasts. Never again, they were completely wrong. The weather deteriorated very quickly. We could not head to a safe harbor (east) to wait the weather out because it would have meant exposing the boat broadside to these breaking swell for a long period of time. It was either head into them (north) or run with them (south). That is the bad news. The good news is that the boat handled it with no problems. Imagine waves constantly breaking against the bow and on the salon roof and slamming against the pilothouse windows. The boat would go up the steep swells after shrugging off the last breaking swell and drop off of the back side with the bow down and then have another wave immediately break over the bow again. I am completely satisfied the boat can handle most anything. I am glad the flush deck Duck design does not have the deep side decks and deep cockpit of the sedan style cruiser I used to own. That could have been a major problem with the breaking swells.
Congratulations to Seahorse Yachts and "Peking", a 462 DIESEL DUCK, honored as People's Choice Award "BEST IN SHOW" at the 2007 Mystic Trawlerfest.
See The 462 Diesel Duck Video: by Passagemaker Magazine.
The Troller Yacht Book is back in print! You can order it as a hard cover book, an e-book, PDF, Kindle, and all those other formats out there. Go to George's Books for ordering info and general NW lore!

 
The original 38′ DIESEL DUCK, 22 years old when this photo was taken, visiting San Diego in 2012.
This 44 Seahorse built single handed a two year trip from China, through the South Pacific ending up in Seattle. She currently cruises between Seattle and Alaska.
 
But First, do a Good Deed! Click 
The Animal Rescue Site
and a dog gets a meal.
It's free! Do it every day!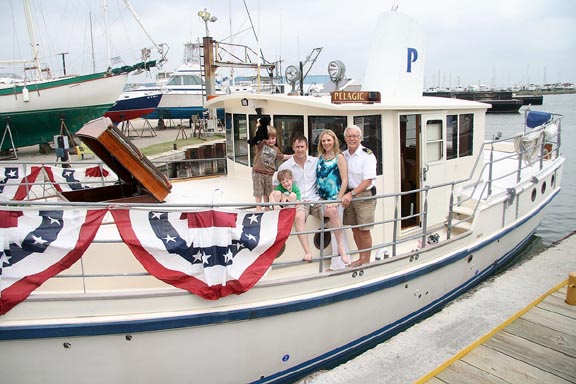 Dan Gill built this fine wood 44 and launched her in 2011
A 41-Plus DUCK
 was built by Asboat Yacht Builders, Ltd., in Izmir, Turkey. She's an affordable and able small ship capable of going wherever you feel like.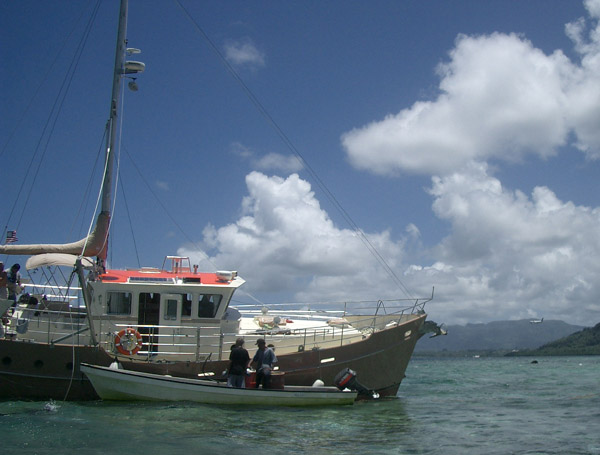 "Duck On The Rocks." So far this 462 and Tommy's 44 have banged away a few days on the rocks before getting dragged off, with no damage. SEADUCTRESS hit an iceberg and raised 6″ out of the water before falling back, with no damage. There's a lot to be said for a steel yacht! Oh, after getting free again, this boat headed on across the Pacific, went through the Panama Canal, and headed east. Click here to see some photos of the Panama Canal Trip!
Stern View of Gail & Ross Anderson's 45-Plus, built by Townsend Bay Marine.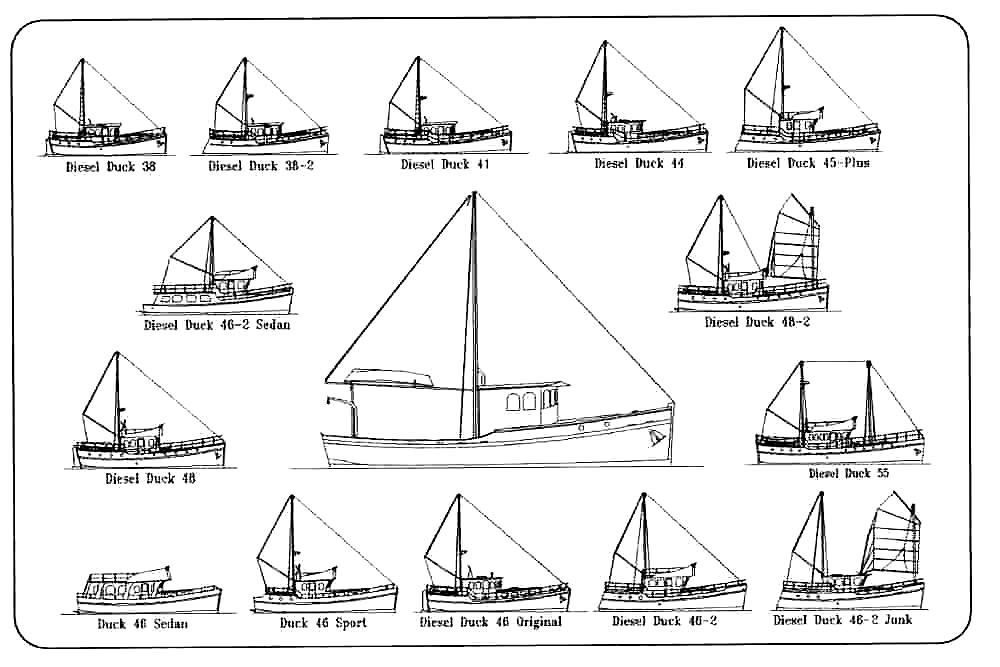 The DIESEL DUCK family is steadily growing. In the middle is the 48 DUCK showing her as she'd be if built to their roots; a Pacific Northwest Salmon Troller. She's surrounded by a few of her cruising relatives, ANY which could be stripped down for fishin' if it was a different day and age…. They all share that wonderful tradition of fuel efficiency and seaworthiness. Read The Troller Yacht Book for more about that!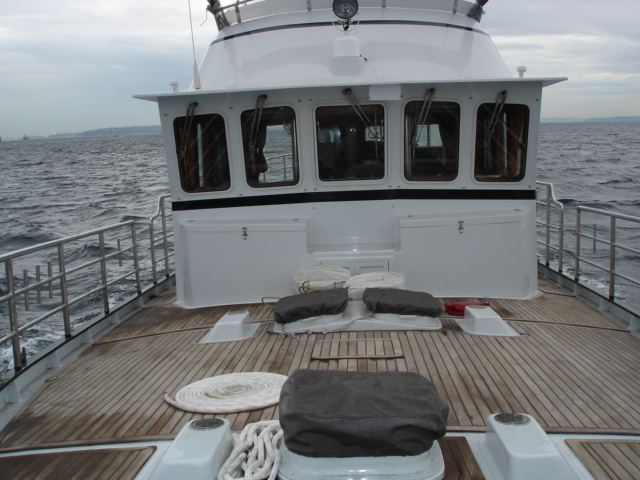 10/11/05
 The new 55 DUCK heading north.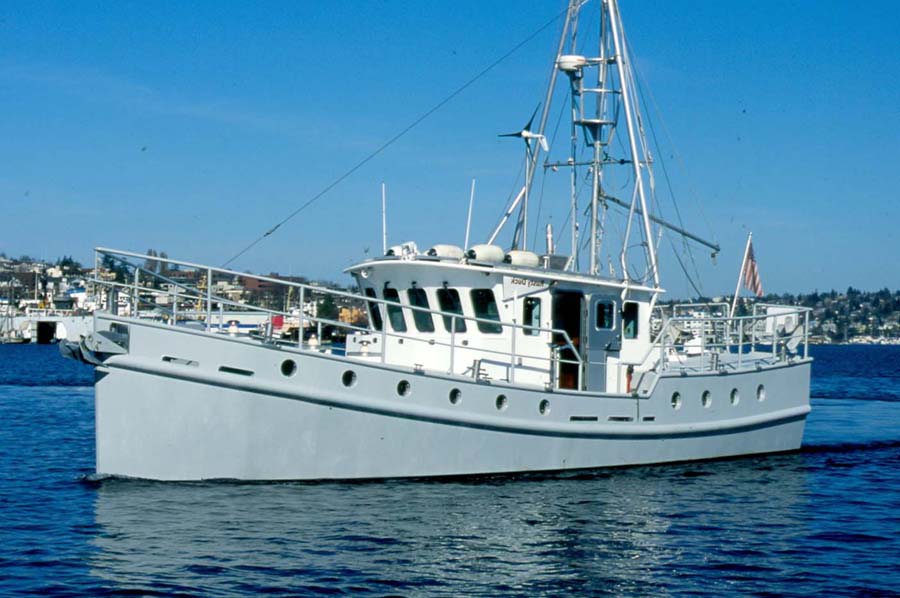 The original Diesel Duck 48 (photo by Bob Lane)
This "traditional" 44 DUCK sailed from China through the Red Sea, was sold in Europe, and is now cruising the "Med." Her owners report they use the head sail ("modified dhow") regularly as it controls roll and adds to the mileage. NEWS! She's currently in Sicily, and after 7 years of cruising, is for sale.If you want to start your voyage in the Med (all import fees/rules paid, write, and I'll put you in touch with the owners. Check out their blog: http://www.lesbirdsnest.com/ and, watch the "walk thru" video.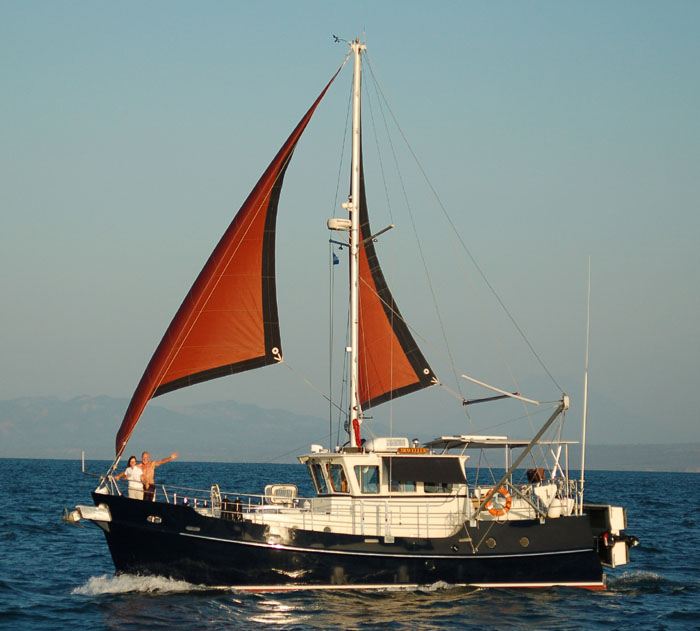 A Seahorse 382 at sea. See more at &
Diesel Duck 382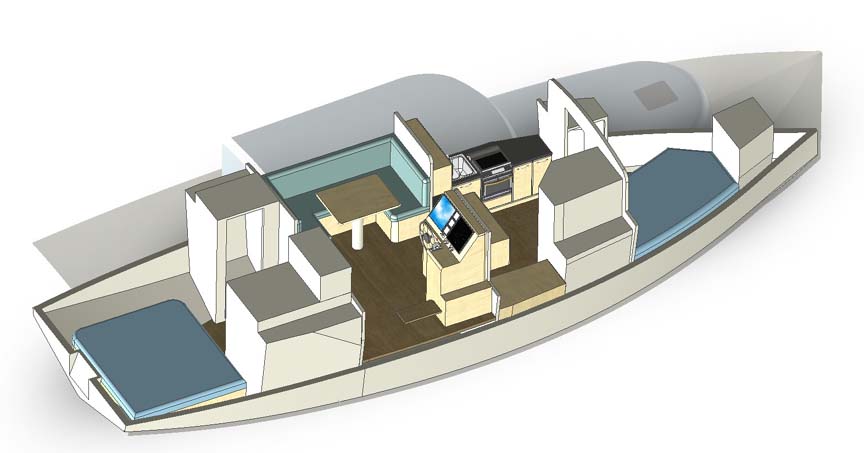 Venturelli Yachts
 in Italy is working up a special 44 DUCK Italiano! Click HERE to see more of what is being developed.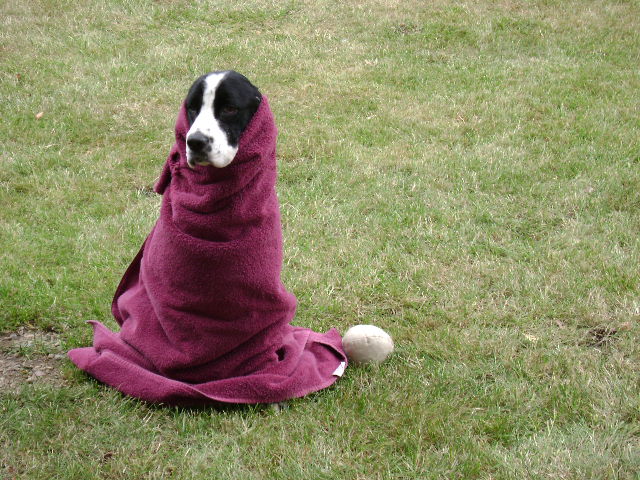 The indignities Gail puts my dog through…..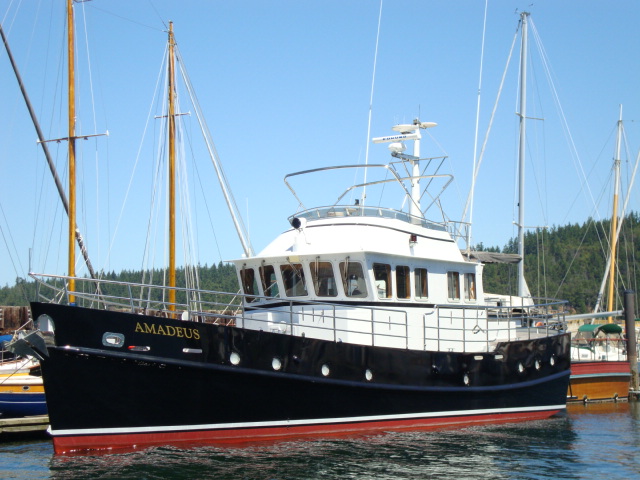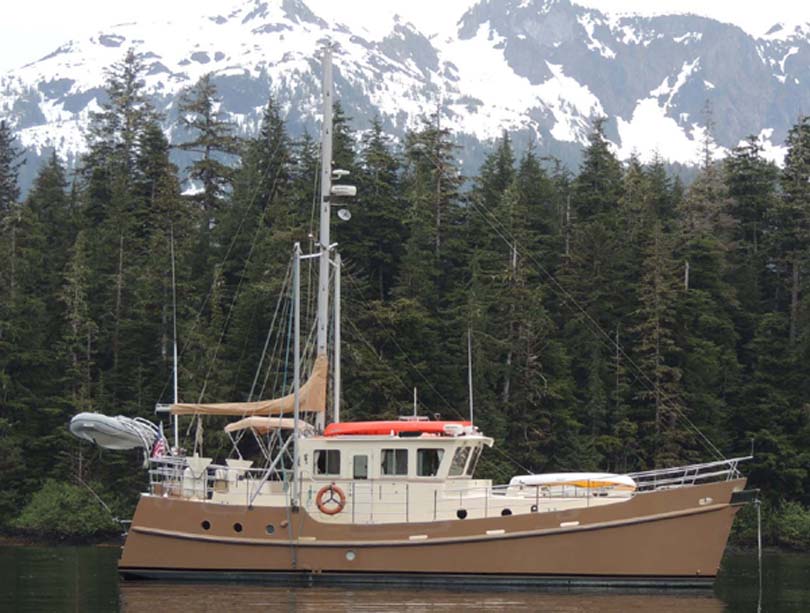 A Seahorse built 55 DUCK in Seattle and a 462 anchored in Alaska
| | |
| --- | --- |
| | JULIAN ADDERLY was the first powerboat I designed and looking at her years later, I see some Duckishness in her! Her plans are available free in the first edition of Buehler's Backyard Boatbuilding or of course I sell large scale ones too quite reasonably. This one was build in Newfoundland or Nova Scotia, I forget. They modified my house design some but she still looks fine. |