46′ 2 Seahorse Diesel Duck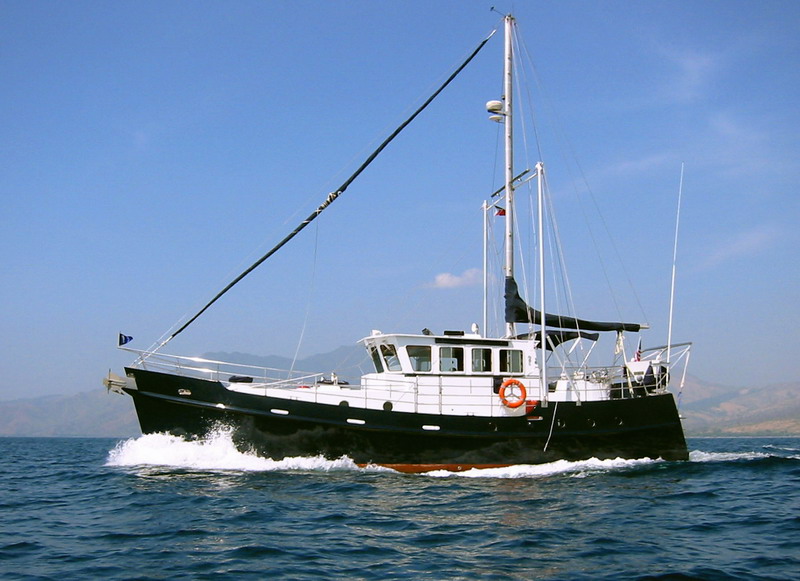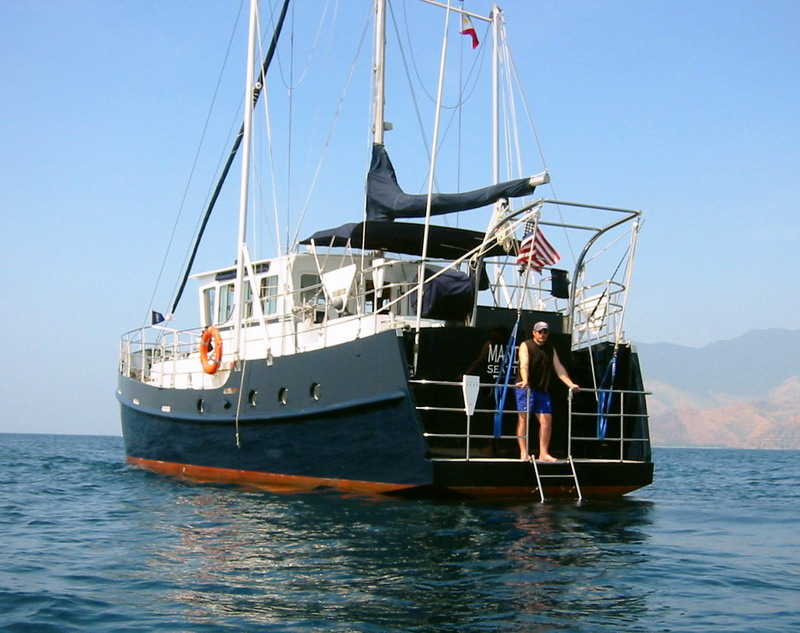 This is an interesting modification of the theme! But first, I'm sorry but the plans are not sold alone. This design is available only as a completed boat from Seahorse Yachts. The reason is that Bill had a great deal of influence in the design. I really liked the way it ended up so decided in return, I'd give the exclusive building rights to him. Why not? Seahorse has done a wonderful job on several Ducks now, and we all believe this new boat is gonna be a big hit (that was written a year ago. So far 9 462s have been ordered so it appears I WASN'T optimistic!).

The stern was suggested by a guy having a 44 built. He pointed out that since there's a swim step, it would make sense to simply extend the bottom out to where the swim step would end. Funny how many simple and logical ideas aren't at all obvious until somebody points them out… This stern design actually shortens the overall length (think marina fees), adds little to the building costs, but does add to the WL length which means she'll move through the water faster at less power.

The design was done as a 49 footer then a couple feet were chopped off the stern down to a point level with where the chine hits the transom. The transom now hits the deck at 46′ aft the bow, hence the "46+2" or 462 name!

The boat's beam is 14' 11" making her the heftier than the 48, actually. Other differences are a longer pilot house, and a bulwark line that brings to mind old time freighters. I like it.

She's got a very comfortable interior. Now here's a place where Bill and I argue. The stock interior is his design. I like it and so do many other folks. However, personally, not having any particular digestive problems I don't require more than one bathroom on a boat this size, and the one that I want, I want it big enough to turn around in. You'll see the second interior shown has that. That's how I'd do her. Hell, a friend has a motor home that's bigger than our boat here and he survives fine with one bathroom. And one bedroom! But as you know, the interior is fair game for change. Everybody does it and one of the big reasons to go with the custom boat is the freedom to set her up as you want her. For example, my wife's hobby is cooking and she is a gourmet cook. Her idea of a good time is playing in a kitchen. In our house the kitchen seems where we normally "hang" and my interior makes it possible for a cooking junky like her to have her space yet not be stuck off alone.

I drew in the cockpit that David put on his 44. I like it. You step out the back of the wheelhouse to get to it, and it has a "U" shaped seating area and a big deck box behind it. Obviously it takes headroom from the aft cabin, but, depending on which interior you choose, there's either an entertainment center and cabinet thing below the cockpit sole that extends down to the cabin sole, or, the cockpit sole isn't' as deep as the other version and you have a head below.

She has heavy and high pipe railings, large deck hatches, and of course a backup sail rig. I don't think a flying bridge would hurt her either so we show a version with one. And the junk rig too. I love that junk rig idea! And, last but not least, there's a version with a more normal looking "motorsailor" rig. This is based on roller furling on both sails and will be quite expensive. Bill has successfully done this rig on a big glass motorsailor Seahorse offers. I personally would stick with the original "Duck" rig. It's part of the concept, and less expensive too.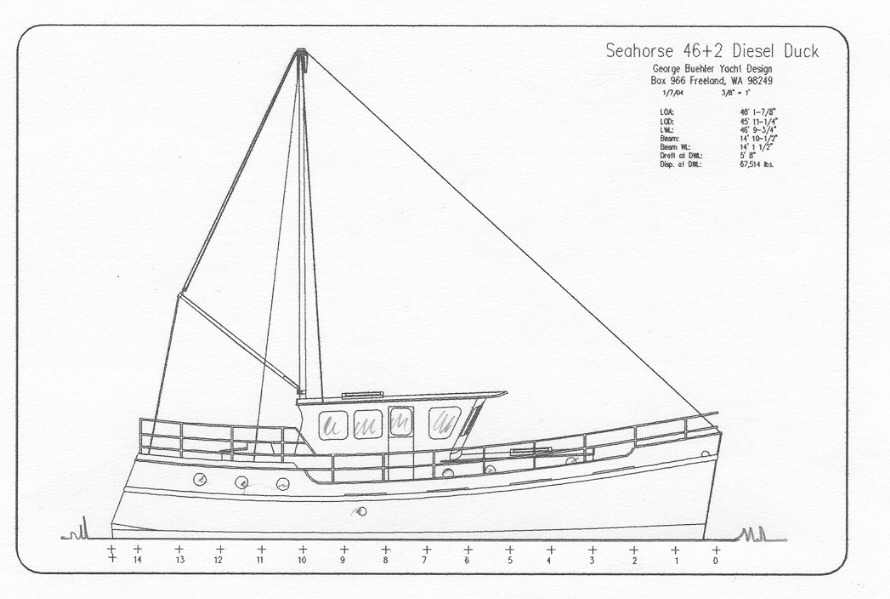 The transom doesn't lean forward. That's just the sides extended. If you look at the interior views below you'll see the way the transom is set inboard from the intersection of the chine and the lower transom, making a swim step that is actually part of the hull bottom!
Here's Bill's interior design which is also the stock interior. But unlike practically all production boats, the 462 DUCK is a custom built boat and part of the reason to have a custom boat is the freedom to plan out your own interior. Part of the deal if you decide to order a new 462 is that I'll work with you on interior and outfitting ideas. Seahorse can build in whatever you want although it might cost a little extra.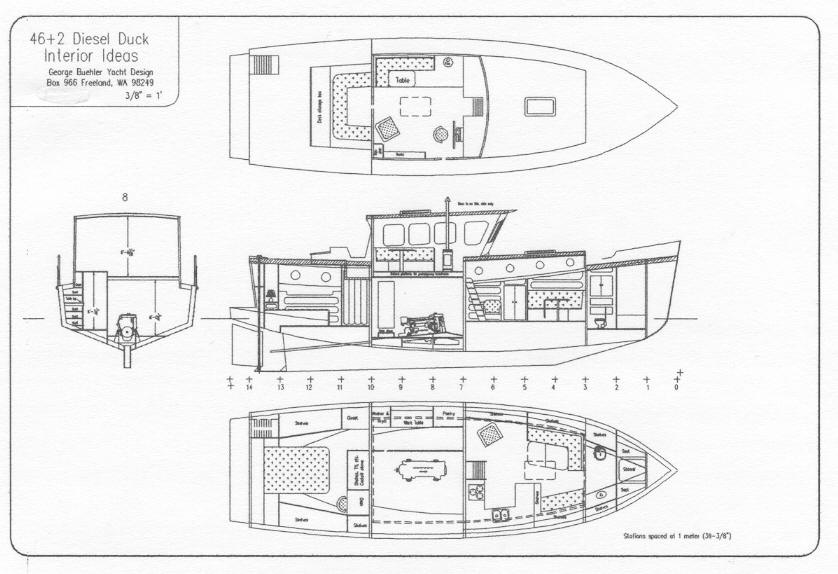 This looks a bit better than the drawing……. Note the galley is in the passageway; it works out great.
 
Here's how I'd probably have the interior if I was ordering the boat. I've planned this version to emphasize comfort and livability for a couple. The wheelhouse and main cabin dinette tables drop to become "friendly" double beds, so she can sleep 2 guest couples if you want to. But the 98% of the time the cruising couple is alone on board, this interior will be comfortable. That includes one real bathroom, something rarely found on moderate sized boats for some reason!
Here's her "numbers".

DIMENSIONS
LOA 48.45 ft
LWL 46.82 ft
Bmax 14.87 ft
BWL 14.28 ft
Draft at DWL 5.67 ft
Displ. at DWL: 67514.57 lb
 
COEFFICIENTS
Prismatic 0.660
Block 0.278
Midships 0.422
Waterplane 0.781
 
MOMENTS
Trim 1 in. 7552.8
Heel 1 in. 2101.0
Trim 1 deg. 74344.0
Heel 1 deg. 6307.6
 
RATIOS
L/B Ratio 3.28
D/L ratio 294
Lbs./In. 2786

CENTROIDS
LCB 25.01 ft (51.1% aft)
LCF 26.22 ft (53.6% aft)
VCB -1.31 ft
XWS 26.68 ft (54.6% aft)
ZWS -2.33 ft
 
AREAS
Waterplane 522.34 ft2
Wetted Surf 801.13 ft2
 
STABILITY
GM trans 5.35 ft
GM long 63.09 ft VCB
Displacement at 2" high = 62,004 lb
" 2" deep = 73,144 lb
" 3" deep = 75,968 lb
" 4" deep = 78,807 lb
 
Projected power requirements CALM CONDITIONS at DWL (67,515 lb) and at 2" loading (73,144 lb)
V/L … Knots … HP at DWL … HP at 2" loading
1 ………. 6.84 ………..12.3 …………….13.3
1.1 …… 7.53 ……….. 18.9 ……………. 20.5
1.15 …. 7.87 ……….. 23.2 ……………. 25.1
1.2 …… 8.21 ……….. 30.1 ……………. 32.6
1.25 …. 8.55 ……….. 40.3 ……………. 43.6
1.3 …… 8.9 …………. 54.6 ……………. 59.2
1.35 … 9.24 ………… 74.2 ……………. 80.4
I just (6/04) got a very nice letter from John & Jeri, who are having #3 built for them. John gave me permission to post it (I'll always ask you!) so here it is. I found his comments about making the decision to go with a 462 interesting. But of course I ain't impartial…….(!)
Dear George,
When I came home this evening, Passagemaker (August 04) had just arrived. My wife Jerie was flipping through the pages when she suddenly laughed…she found the Duck article. Very nice article, indeed. The funny thing is that they described the path we took to the present 462.

I saw your The Troller Yacht Book on the shelf of Barnes and Noble and got a copy. When I finished reading my first copy I considered it as the only straight talking book I have come across. I liked the analysis you present so much that I have given the book as gifts to many of my friends.

When Jerie and I would go to boat shows, the "Troller Yacht" was the standard by which I judged the presentations (most were either bull shit or horse feathers). I only saw two engine rooms worthy of the name, and for most of the "cruising boats" pity the poor devils who had to repair anything in them.

When we started looking for our own boat in which to do passages, we kept coming up back to the advice in The Troller Yacht Book ( I have memorized more than a few passages ). We are first of all interested in a sea worthy boat. I would not want to be caught off Nantucket in a northeaster in any of the production boats in the local marina. We kept returning to the Ducks as a standard.
We want a comfortable boat, we plan to live on it. Again the Duck met our needs.

We want a boat we can afford, and the Duck again came up number 1.

We went to your web site frequently, and then discovered Seahorse. I feel comfortable with the entire operation, and am only sorry that time does not allow me to sail it back home. Jerie is already beginning to talk about a circumnavigation.

I am trying to get the 462 right the first time. Bear with me as I ask the foolish questions. We are really looking forward to this boat, and I know no one in the marina will mistake it for any of the sport fish jobs who can't go far because the owners can not afford the fuel to fire up the diesels.

John
Go to construction photos of 462 Seahorse Duck
See 462 Seahorse Duck in Panama Canal
For more info on the 462, please go to Seahorse Ducks