The 38' DUCK worked out just great and the new 41 seems to me to be even better as she will cost hardly any more to build but has a more comfortable interior. But the 44 probably is my favorite because she simply has a bit more heft and volume than the little ones.She will be more comfortable than the littler ones and cost less than the bigger ones yet will do pretty much what they will. Of course there's nothing like "elbow room" and big boats are always better than little boats. But the 44 is right on the "cusp;" she'll house and cruise you comfortably. The smaller ones will too, but not as comfortably, but of course you pay for that; there's more steel, more interior to build, a slightly heavier anchor, and so on. Is it worth it? It all depends on what you want!
This boat has a great interior for long term housing of a couple. I think a cruising boat needs to be strictly set up for the owner's comfort. The plans do show two guest bunks in the bow but another option could be make the dining table able to convert to a guest double if you need to. The 38 footer is comfortable, but this boat is more comfortable. It also has a longer waterline that makes it move faster for the power oddly enough, and a bit more displacement which makes it feel "heavier" so motion is more comfortable.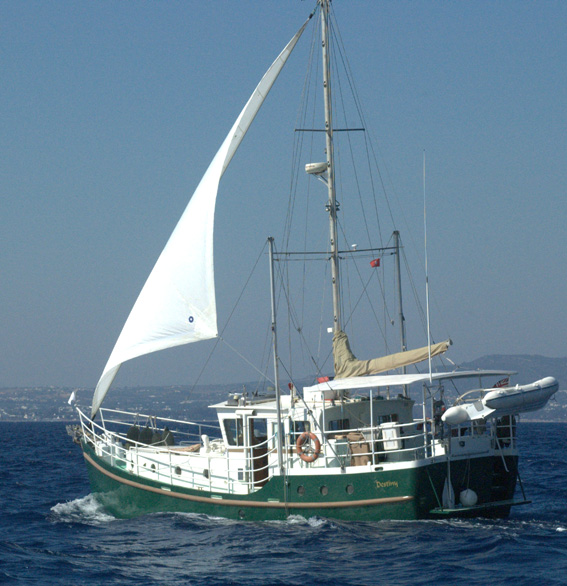 Seahorse built 44 somewhere in the Med. The owners use the headsail most of the time, reporting it dampens roll and saves fuel.
A beautiful 44 Duck built in Quebec by Pierre Linteau, and launched summer 2000. This is the "original" version and I love it. Here's some photos of her dealing with some locks up in Quebec.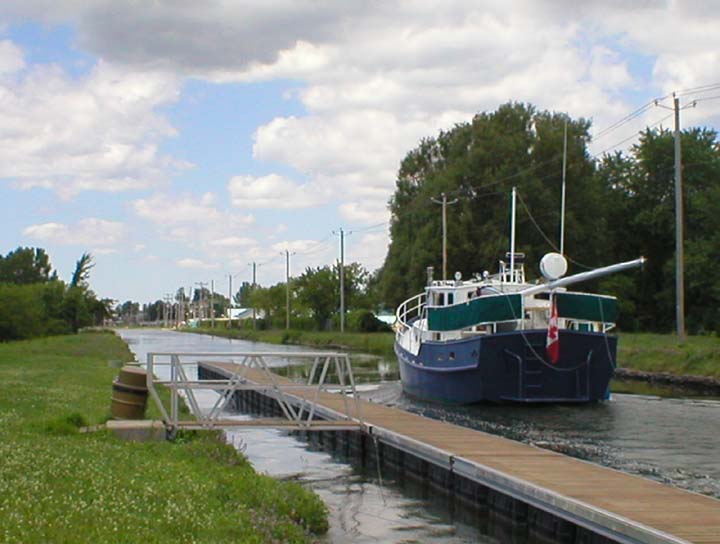 Here's the original profile and interior layout. I still like it too!

Particulars (Original)
LOD: 43' 11" …..LWL: 41' 9"….Beam: 14' …. Draft: 5' ….Displ.: 45,160 lbs.
The New EVOLUTION 44 Duck!
"Seaductress," the first Evolution 44. She single handed from China to San Francisco, then up to Alaska. Sold after the trip, she now lives in Washington State. She's shown here sporting "Australian Floppers" which I hear are easier to handle than ours. I don't know how they work but I heard the current owner has removed them. I STILL think the sail is plenty to slow roll. After all, we're talking boats, not motorhomes…..
The original hull lines are too "fine" to support the boat's heavy steel construction and a full load, and she ends up sitting 6″ to 8″ low. That wasn't a concern of mine but it is for some people, so, I "porked" her up a bit for steel construction! At the same time I changed the bow and transom angles after the first Seahorse version, and here's the result. I've shown her below with the original deckhouse which will house the interior shown above, as well as a shorter deckhouse with a door in the back wall, which houses the interior shown below!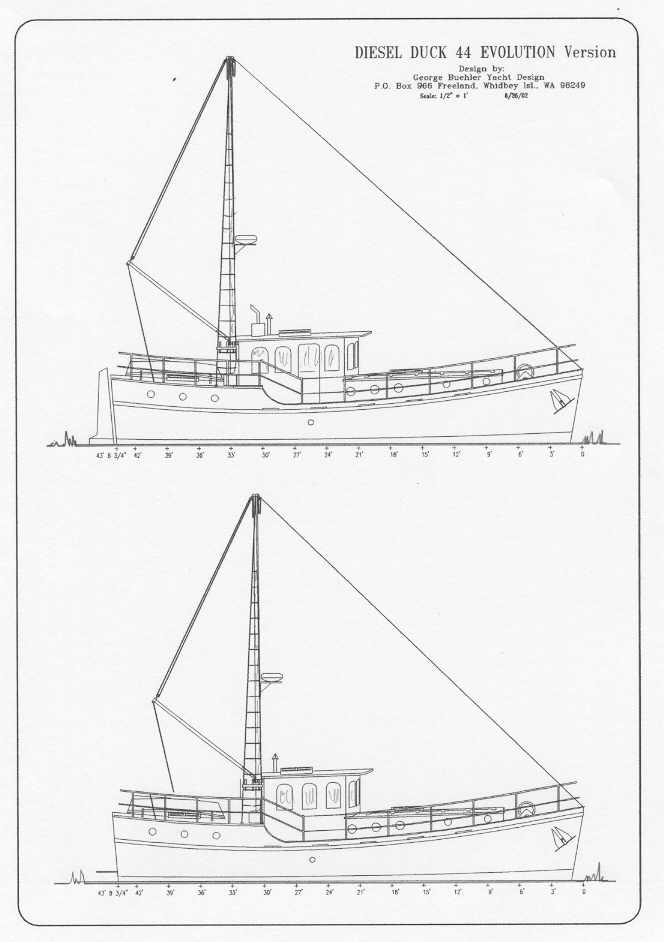 Here she is with two pilot house ideas. The top view is the original, and also sports the outboard rudder. The lower version has a shorter house; it stops at the aft end of the sole so both have the same actual floor space. The difference is that there's a door in the aft wall of the house rather than on the side. The lower version shows her with an inboard rudder and swim platform. And, the mast is a couple feet further fwd. This is probably a better location for "floppers" but as I've said, I don't think you need floppers with the sail rig. And of course, if you like this mast location you can step it on the roof on the original version. All the choices! Finally, on paper I think the original version looks "jauntier." But in real life, this version looks fine too. See the Seahorse photos!
Here's the new version's interior. Note it shows a passageway beside the engine to the aft cabin; however, either interior can be used in either version. Also, this new interior "looses" the fwd. guest bunks; I think that is a total waste of space. You want to see good live aboard interiors designed strictly for the owners? Go look at motorhomes! You won't see ANY with guest cabins or more than one bathroom! But of course, build the interior anyway you please; that's one of the reasons to build a new boat. You can set her up as you please!

Particulars ("Evolution")
LOD: 44′ 1″ …. LWL: 42′ 8 1/2″ …. Beam: 14′ 7/8″ …. Displ.: 61,583 lbs.
June, 2004 Note:
Randall Johnson flew out to San Francisco the end of May (04) and traveled with David Katz aboard his 44 Duck "Seductress" (the 44 footer that cruised over here from China) from SF up to Poulsbo, WA (by Seattle). David is on his way to Alaska and stopped in Poulsbo to show the boat. I was at the show too. It was a lot of fun. Anyway, Randall wrote up this letter and sent it to several people he knows, including me, and I'm sharing it with you! Oh, he then went and ordered a new 462 DUCK from Seahorse which at this writing is being built!
| | |
| --- | --- |
| | I've shown this photo elsewhere but I love it (except for that ugly little blue boat in the way). This is "Seaductress" in China before she left on her cruise, mostly single-handed, back to North America. |
"This is my report on my two week stay with David Katz aboard Seaducktress moving it from San Francisco Bay to Poulsbo, Washington. I will start with the last week because I had more fun that week, though I did get a lot of experience bringing the boat up the coast. The second week I threw up a lot less, actually I didn't throw up at all the second week and was eating very good to make up for throwing up the first two days and not eating for at least three days.
We arrived in Poulsbo on Sunday afternoon and fueled the boat. That was the first time my feet had touched land in a week and I got some laughs trying to walk on the dock. We couldn't get a slip until the next day so we anchored just outside the docking area. I had suspected the boat would garnish attention and it did. While the boat was being fueled three or four people asked about it and even more just stopped and looked. We got a slip Monday morning and settled into our mooring at the Poulsbo Marina. The preset-up people from Trawlerfest arrived and gave us our permanent slip for the show that afternoon.
David and I started getting acquainted with our fellow boaters mainly because they stopped by the boat and asked where it came from. One guy on the fuel dock was a broker and had been in China when David took delivery and had seen the boat. I made several friends by showing the boat to them. They would come by and ask questions and I would invite them aboard and tell them the story of the boat, George Buehler, and Seahorse Marine, and from my knowledge of those things they thought I had more of a connection than just the few days I had spent on her. "Her", that just doesn't seem right to call a Diesel Duck a "her". I soon started telling people my impression was "it's a cross between a sailboat, a power boat, and a Sherman Tank".
I discovered on my around the world bike trip that people felt a need to come up and speak to you if you were on a bicycle, especially if you looked to be from a foreign land. This boat has the same attraction. Somehow the image of this craft, (craft doesn't really fit it either) gave people the liberty to investigate. Certainly the owners would not be uppity or sophisticated. The owners would be friendly and inviting. Somehow they made a connection even before they saw us; somehow they made a connection with the boat. Somehow they knew that the owners of this boat didn't inherit a family fortune, win the lottery, or have a career in the software business. Certainly the occupants of this boat were from a working class just like them. People were equally curious about the boat and the fact David had brought it from China mostly by himself.
The closer we got to the starting of Trawlerfest the more people came to look. Finally on Saturday the last day and the day of most attendance, people were literally standing in line and inside there were as many as twelve people at once. Peter Pisciotta even took a picture and included Seaducktress in his presentation, "Selecting the Right Yacht" which was very, very good by the way. I had so little time from showing the boat that I only had time to see one other boat, a million dollar yacht.
Not that there is anything wrong with million dollar yachts.
I wish I could afford one. I did feel somewhat out of place on it though, I didn't dare touch anything. David noted to me afterwards that these boats always seem to have a bottle of wine on the galley counter. It made him think that he may get out a bottle of beer and set it on the counter of his boat.
Quite a few people had followed the Diesel Duck on the internet and were familiar with Seahorse Marine, George Buehler, David Katz, and Bill Wilson. I talked to several people for quite a long time about the development of the cockpit and the passageway under the pilot house. I would tell them that the designer and the builder liked these changes so well that they had designed a new boat around those changes. I wish I had had some brochures.
George had some nice brochures at his table in the vender tent promoting his designs including the 46+2. Some people came on board with that brochure clinched in their hands. I would open it up and show them the similarities between Seaducktress, which was on the cover, and the 46+2. I told them that four were under construction.
I would give anything to have a Diesel Duck on the East coast. I actually believe these boats will appreciate in value. With the right marketing approach I also believe the demand for these boats will be strong.
Okay, now for the first week. David picked me up at the airport at 11:00 AM Sunday May 23rd and took me to the boat. We drove to a market and bought provisions and while I put them away he returned the rental car. I fixed dinner and David said he wanted to fix a sticking shifting cable on Monday and leave Tuesday. After dinner we looked at the cable and within an hour or less had it working just fine.
We motored under the Golden Gate Bridge at 9:00 Monday morning and I couldn't resist the temptation to call my wife and gloat, she was very jealous. Within an hour I was hanging over the rails vomiting my insides out. Not only was I seasick but I was embarrassed because I had talked David into taking me along with the assumption I would be of some benefit to him.
I had taken pills to prevent this but nothing helped. The only relief I got was lying on my back. That afternoon David asked if I thought I could help him stand watch. I answered yes although every time I tried to stand I started heaving. He told me I could watch from 9:00 PM until midnight and 3:00 AM until 6:00 AM. I can tell you that when I laid back in that lazy-boy I would have given $100.00 for how it felt. The relief was similar to lying in a bed and I believe that chair is right on the pivot point for the boat.
As you probably know David doesn't talk a great deal and didn't tell me until the afternoon of the second day that I would get over it, and eventually I did. That was great to hear and feel after a few days. I certainly couldn't plan this great adventure with my wife on boats if I was to stay sick all the time. I finally got brave enough to put some food in my mouth about Wednesday. I tried to make up for the first two days by preparing good food for David and staying out of that chair which I had come to love.
I think David came to like me and appreciate my assistance. To my knowledge I did help watch standing and when we got to Poulsbo I cleaned the boat from stem to stern and top to bottom. None of the knots I tied came loose and though I watched behind us no fenders fell off after I tied them to the railings in preparation for docking. I attached the lines to the dock and got a little of a reprimand from David when I made those cute little curls on the dock of the excess line. He said that kind of defeated the character of the boat. I agreed but left them there anyway. By this time I had started to take some pride in ownership of the boat and I wanted curly cues. Apparently no one turned up their noses at them and walked away. People would ask me questions about the boats performance and I would tell them the only thing I had to compare it to was a car. I explained that David had put the paravanes out on the windward side only and as bad as I felt during part of the trip, the rolling didn't seem to be noticeable.
I came to like and respect David. There are not many of us that would attempt to do what he has done. I don't agree with him on everything. He reads too many fiction books.
This is my report and if you have any questions are comments please let me know. I'm planning a trip to Zhulai in November."
Randal Johnson.
NOTE:
In 2005 Randal placed an order at Seahorse for a new 462 DUCK!
44′ Seahorse Built Diesel Duck Interior Ideas
More 44 Photos