Les Schnick is a fine designer and draftsman (imagine, he actually does HAND DRAFTING still!! But of course his German name says it all…) who works with Townsend Bay Marine, among others. Les worked over the 45-PLUS and the owner, as well as I, liked his version. Here it is. This again shows that when you can keep egos out of things, a combination of ideas will frequently make a better product! My only objection to this version is the sailplan; the main is way to small. The reason is Les put a standing backstay on it which limits the boom length. Actually, she doesn't need the standing backstay at all. The side stays can be a bit aft and I'd have a running back on each side too. I'd remove the backstay, raise the mast, and move it forward maybe 12″. If you visit Holland you'll see HUGE gaff rigged boats with tabernacle masts, all using running backs, many sailed regularly by one or two guys.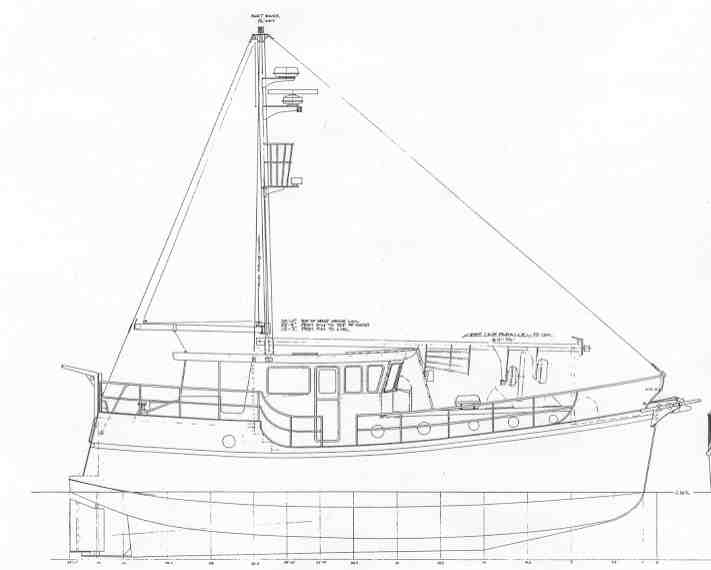 Townsend Bay in Pt. Townsend, WA, did a fine job of building her. The two welders, Paul and Stan, are excellent craftsmen and the tremendous heavy duty machinery available to them makes the job smoother yet. This new digital camera I'm using doesn't take the best pictures (could it be me?) but here, after the below info, are some construction shots up to 8/23/05.
HYDROSTATIC CALCULATIONS
 
DIMENSIONS
 
LOA: …… 47.33 ft
LWL: ….. 46.12 ft
Bmax: …… 14.23 ft
BWL: ……. 13.80 ft
Draft at DWL: 5.30 ft
Volume : …. 1073.04 ft3
Displ. at DWL: .. 68674.27 lb
 
COEFFICIENTS .
Prismatic: … 0.657
Block: …….. 0.318
Midships: … 0.484
Waterplane: 0.789
 
RATIOS
L/B Ratio 3.34
D/L ratio 312
Lbs./In. 2679
 
CENTROIDS
LCB 24.51 ft (50.7% aft)
LCF 25.60 ft (53.1% aft)
VCB -1.34 ft
XWS 25.73 ft (53.4% aft)
ZWS -2.31 ft  
| | |
| --- | --- |
| | I've heard arguments from upside downers and right side uppers about which way is better. I dunno and suspect it doesn't matter. Top builders can be found who work either way…. |
| | |
| --- | --- |
| | The fwd. underwater plate is 3/8″ thick. Look how neatly Paul and Stan rolled it into position. |
Heavy duty keel cooler.

You'll see at the front of the photo that the plate is continuously welded to the frame there. Normally that isn't done but in this case there's a watertight bulkhead, so the plate is welded to one side only, and caulked on the other side. Careful welding and good grinding avoids the "starved horse" look so common on boats where all the plate is welded to the frames. Read the Random Thoughts about that stuff at http://georgebuehler.com if you're interested in more on that. And other stuff too of course!
On To 45′ Plus Diesel Duck Page 3
Back to Previous Page