7/27/09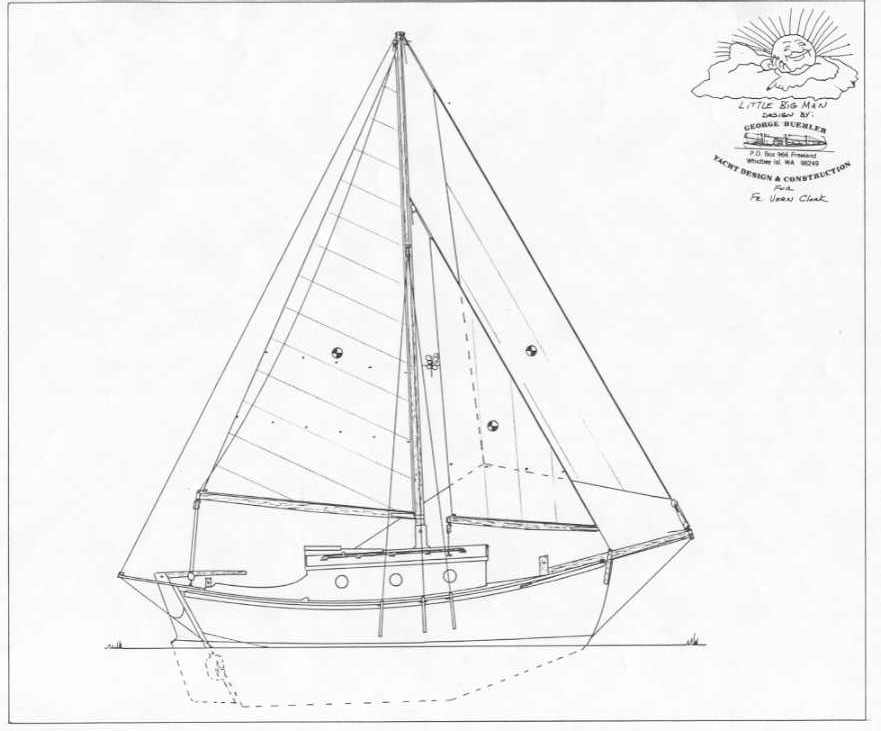 A rather "jaunty" look, if I do say so….
This was a design for my friend Vern, a man who's ministry may be in Wyoming but who loves the ocean. Vern heads to the sea on his vacation, and needed a boat that could be trailed behind his pickup from Wyoming to the Gulf of Mexico, yet big enough and seaworthy enough for a couple guys to go away from land.
When we first started talking about the design I thought I could turn it out with little thought. But once I started drawing I became aware that the criteria were not so simple. Any one was easy, but combining them all, especially the need to be seaworthy enough for unprotected water yet still small enough to trailer  hundreds of miles to the launch site, took a lot of thought. My problem, unlike some people in my profession, is that I'm no hero.I've been frightened more than once on the ocean, and won't venture further from shore than I care to swim back in any boat that ain't pretty stout. As we cautious folk say; "trust in faith, but meanwhile, pass the ammunition."
The interior is set up for vacation use. There's plenty of storage space, a couple bunks, and an adequate galley. It's not a great interior but seemed to fit Vern's use. Of course when you build you can change the interior anyway you want to.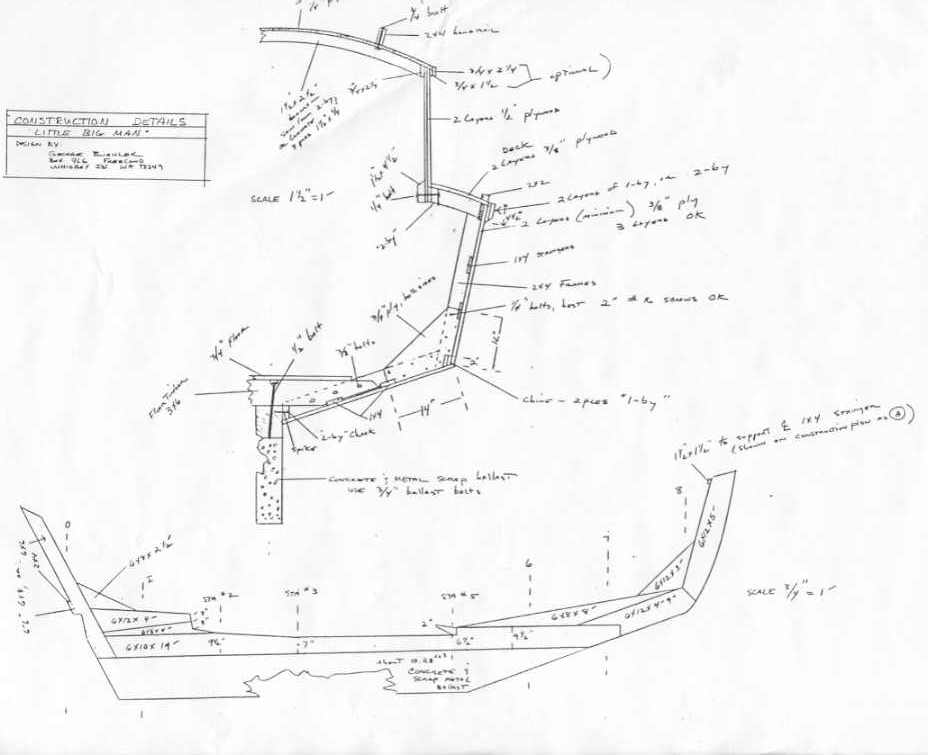 The construction is epoxy covered plywood, 3/4″ thick, with 2 x 4 frames and a 6″ keel. Outside ballast is concrete and metal. Most materials are easily found even in the cowboy country of Wyoming, and what aren't are available mail-order. This type of construction is suited to sitting 11 months out of the year on a trailer, then bouncing down the highway, and stout enough to take hitting something or a grounding.
Although a small diesel is the ideal power, there's no reason an outboard couldn't be mounted off the transom.  Many of the "sailboat" drive ones even have 50 amp alternators on them. Honda makes a beauty but it is rather pricey…..
The rig is a simple cutter, easily handled. The tabernacled mast folds down when the boat is out of the water, and the bowsprit gives her a big enough "fore-triangle" to carry a good sized light weather drifter.
I named the design "Little Big Man" because he's the biggest boat for its length I've ever designed, and knowing the boat was to be built in Cheyenne, Wyoming, I started thinking about Jack Crab, the original Little Big Man, a man small in stature but so large in deeds he was given the name by no less than Chief Old Lodgeskins of the Cheyenne tribe (all this was immortalized in the book, then movie of the same name, starring Dustin Hoffman).