Rudder design and steering systems are a big deal nowadays but actually, are nothing new. Really, once design went from the steering oar off the stern quarter to an actual rudder attached to the back, there wasn't much more to do!
Of course there's variations of the theme, and, when money is no issue the varieties are something. For instance, some mono-hull sailboats have twin rudders. Hydraulic steering is practically the norm. My insistence on solid skegs to protect the rudder and a simple way of removing the rudder is consider "quaint"in some quarters, most often by folks who've never done any maintenance themselves. That's OK. I see no sense in reinventing the wheel and rudder and steering design is a subject that is well figured out.
Here's a series of photos showing ideas that are proven, make sense, and aren't to elaborate.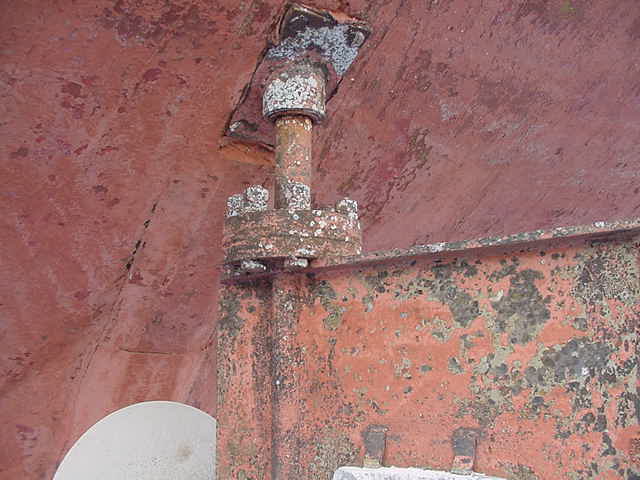 Here's the typical commercial boat rudder removal system. It is simple and sensible, and rarely seen in the yachting world….
Here's a heavy wood boat with a solid rudder setup! This is a skeg that the boat can come down on a rock, and not damage nothin! Note the rudder blade is fairly thin, maybe1 1/2″, but it's securely held together with metal straps well as being thru-bolted. The removal bolts are covered with a weak cement "ball." This is easily knocked off but protects the metal until you need to remove the rudder.
Another heavy wood boat but this time with a plate steel rudder. This setup isn't as rugged as the above boat but still is perfectly good. Note the rudder removal flange is exposed. Note there's plenty of zincs on the steel rudder as well as the skeg. Both of these rudders are slightly "balanced," meaning they have some area in front of the rudder post.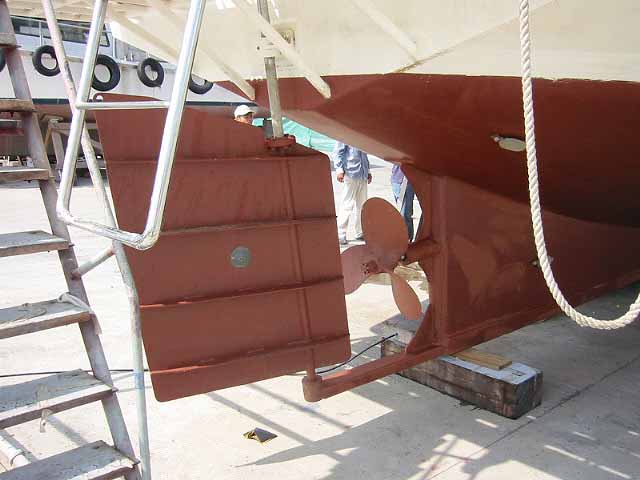 This Seahorse built 44 DUCK has a large heavy duty steel rudder fully accessible. Note the rudder post is outside the hull, against the tranny. Also note the removal system, as well as the heavy skeg and fairly large amount of "balance"forward the shaft.