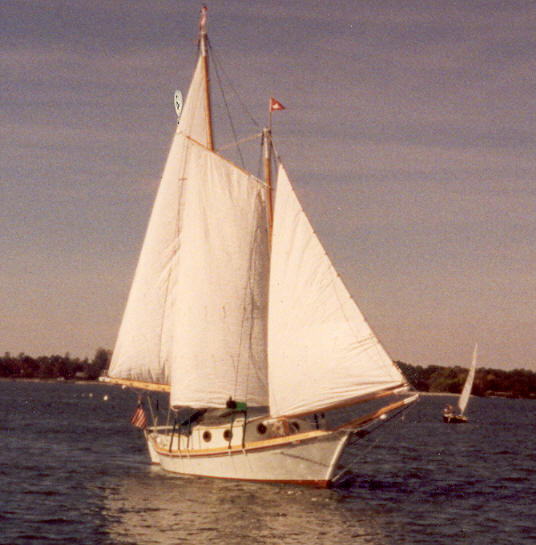 SAM is an inexpensive, simple to build, and handsome little ship that would be a lot of fun for weekend and vacation use. You could certainly use him for cruising too, butI think in this small size a cutter rig is more practical for off-shore use.
However, that's the point. Just being "practical" is usually pretty boring. If you really want to be "practical," you'd simply charter a plastic boat once a year. But how boring!
SAM's hull is sort of a chine version of the Tancook Whaler, a Nova Scotian fishing schooner. It's very trim and should slip through the water with little fuss at all, although is tender. Although I suggest you use planked wood, he can also be built of plywood.
He has a pilot schooner rig, although I gave him a marconi main just to simplify things. The sailplan, because of the overlapping fore, is very powerful, so much so that it was banned from ocean racing, which doesn't make sense since big genoas are allowed. The schooner AMERICA, which the America'sCup is named after, was rigged like this.
The interior is set up for a couple. There's  a nice galley, a small toilet room separated from the living area by a curtain, and a big table that drops down at night to turn into a double bed. If you finished it off in pine or cedar wainscoting and had a couple kerosene lamps hanging on the wall it would really be shippy! There's a separate engine room, which doubles as a small hold for crab pots, and a big cockpit to lay about in.
I think SAM would be hard to beat for messing around in. He's distinctive looking, simple and inexpensive. If you own him you can go to all the schooner meets, which to a wood boat crank is the same as being a member of the Beverly HillsCountry Club is to some folks, and although he'll be one of the smallest, he'll be right at home, and welcome. There's one SAM sailing now in D.C., and his builder says that the boat is always drawing attention. I don't know if that's good or not, but it's sort of fun.
Here's a letter from a guy who built SAM, and here's some of what he said:
"I spent the Columbus Day weekend on Shaw bay (in Maryland). 5 boats motored over to tell me how "pretty" my boat is. The boat is moored near Annapolis, and every time I'm out everybody who passes exclaims: "Great Boat!"
LOD: 29'…Beam: 7′ 11″ … Draft: 4′ … Displ: 9,000 lbs. … Sail Area (working): 459 sq. ft.