The hull, originally designed in the 1600s(!) has a really lovely sheer. The original Cowhorns were between the low 20s and the high 30s foot long, and were usually rigged as two masted unstayed cat ketch. This Marconi cutter is much simpler….
Americans look to European designs like the Scanahoovian rescue boats when thinking of "traditional"boats, which is unfortunate. Here in the States (and Canada) some excellent types evolved which are more suited for our conditions and more refined in general. Our Pacific trollers and Halibut schooners are a prime example. There's never been better off-shore boats.
The Block Island boat is another pure American type that even though possibly designed over 300 years ago (supposedly by Trustrum Dodge, in 1661) is still worth looking at today.
They were known as excellent sea boats, and only one from the fleet was ever recorded as "gone missing."
The boat was designed to be worked by a man and a boy, in open water, in all weather. The originals were open boats. The maritime historian Chapelle said it (Cowhorn) is a boat that "the crews could take it as easy as possible in a small, open boat in a winter gale." Hmmm.
For some reason no fiberglass company ever picked up the design as a production boat. However, many many of them have been built as cruising yachts. There's a beautiful big one at a local marina named SKAGARACK. It was built 60 odd years ago in L.A. to sail to Australia for White Shark fishing. However, whatever vitamin was made from shark liver was synthesized the year it was launched, killing the fishery, and SKAGARACK ended up as a yacht.
The hull shape is good for ice, since it would lift rather than be crushed, and one was built in California for attacking theNorthwest passage. Unfortunately, it was sold in a divorce fight before it could make the trip. Another one owned by a successful importer made a series of business trips between Seattle and Mexico in the 1960's and '70's. The hulls are entirely ballasted inside, which saved this boat one night when coming in towards a Mexican beach in the dark. It came down hard on a rock but got off. Back in Seattle when the boat was hauled, the owner found the planking had been crushed, but the cement in the bilge had kept the water out.
By today's ideas this hull is totally obsolete.It's to beamy and symmetric, it has way to much wetted area, to deep of a forefoot, and so on. That may be (and I don't see these points as flaws…) but these are really great boats!
These boats are about the easiest displacement round bottom hulls to build. The curves are very easy, the keel and stems are straight lines, and all ballast is inside. It's also a good hull form fore poxy strip building, using "bead & cove," or cold molding, for that matter. They aren't fast in light weather, but they are very comfortable aboard and one of the safest boats you can get for off-shore use. They handle so well that the importer's boat once sailed for a week before he noticed that the self-steering wind vane wasn't hooked up.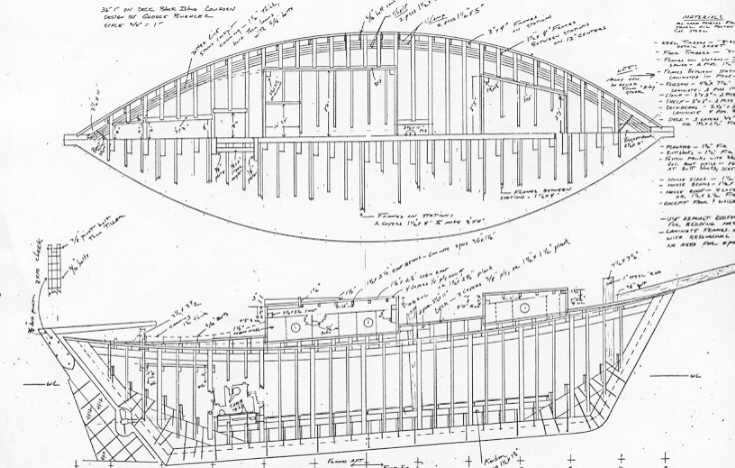 Her construction is simple and very rugged. My chine hulls are simpler to build but this is about as simple as a soft bilge hull can be and in return has a grace that no chine hull can match. When hauled out. In the water of course a low profile chine hull looks great too!

A number of boat designers, including myself, have taken the old Cowhorn and drawn yacht versions of it. The maritime historian Chapelle makes it clear that he doesn't approve of the Marconi rig on these boats, but, so it goes.
So, there you have it. To many builders, and especially designers, forget to look at our country's wealth of traditional boats when thinking about building a new boat. The Block Island Cowhorn is just one of many old designs that really are timeless. It evolved over a period of years, proved its worth in a time before coastguard rescues, radios, engines, and whatnot, and is well worth looking at if you want a safe and comfortable off-shore sailboat today.

Here's how I'd probably lay out the interior. It's a good cruising layout.
PARTICULARS
LOD:36′ 1″ … LWL: 31′ … Beam: 12′ 3″ …Draft: 5′ … Sail Area (working) 679 sq. ft.