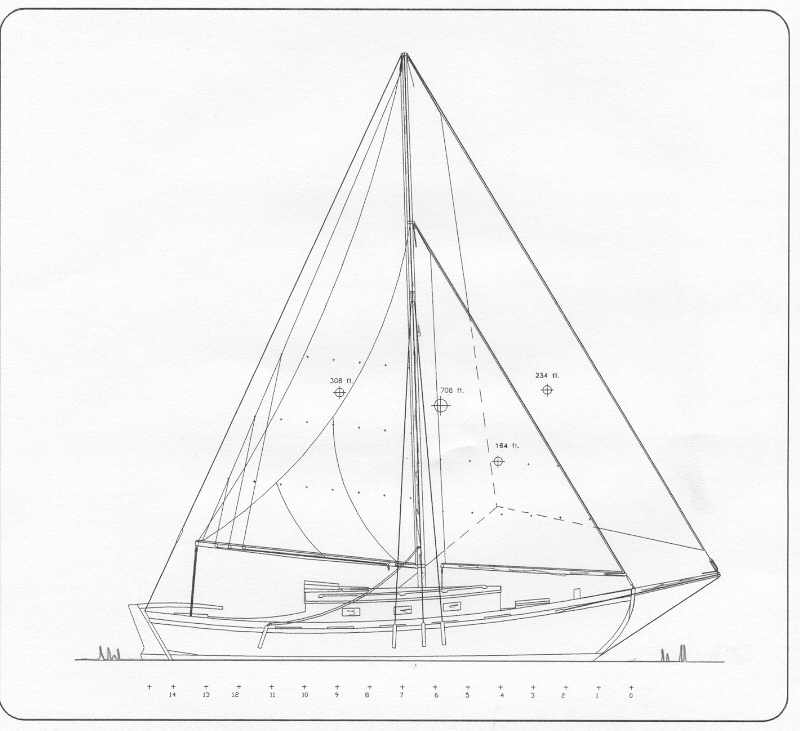 Her cutter rig has multiple reefs, a straight leach so can't hang up in the rigging, a large boomed staysail, and a jib mounted on a tackle off the sprit. This is the most functional cruising rig for a couple or a single hander. There's more details about it in the Random Thoughts section of this site.
William Atkin used to describe some of his designs as being "wholesome." Atkin's "wholesome"designs always struck me as being functional without any extremes; both in appearance and construction.
JENNY seems to fit right in here. She's a simple, rugged, and inexpensive sailboat. She has a large cockpit that will seat 4easily, the room to sleep 4 or even 5 on vacations or weekends, yet because of her large galley and generous storage space could also make a comfortable liveaboard for a young couple.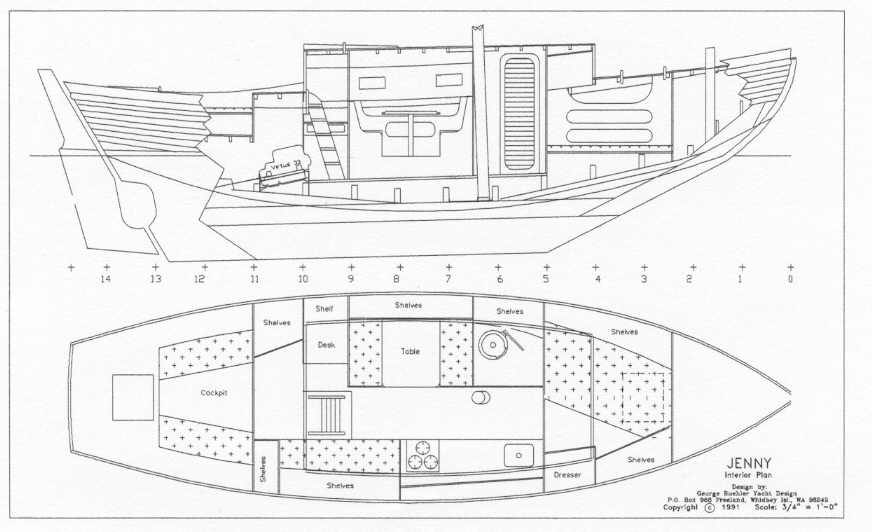 Her working rig is moderate and easily single-handed.It has enough area for all around use, and if you add a good drifter will work in very light weather too. She sails well. The first one built was used several years without an engine, and the owner/builders said they were happy with the way she handled. Dealing with light wind and narrow channels in Florida finally beat them, and a small diesel was installed which as I always said, made life far simpler.
She has a simple single chine hull that can be built from epoxy coated plywood or traditional planked wood, as well as steel.
The building plans include both wood and steel versions. This type of hull is very easy to build, so JENNY is a feasible project for a home builder. I personally would give a lot of thought to epoxy coated plywood as my first choice. This has less maintenance headaches than steel, with all the advantages of wood. It's easy to do, too. Steel boats are noisier inside, you see, even if they are heavily insulated. They are also damper inside.
It seems most yacht designers get carried away with whatever their interest is. I'm equally guilty, as most of my designs are real gung-ho ocean cruisers that can roll down a hill to the launch. But as I worked on this design I realizedI like the "wholesome" concept; a moderate boat. No extremes, in other words. Just a nice boat, comfortable, affordable, and easy to handle.
While JENNY would be a good choice for weekend and vacation use, she will be equally at home "goin cruisin" too. My only concern is that the longer house takes away the deck space for carrying a good skiff, like JUNA can do. But in return it certainly adds to the interior room. Everything is a trade off and if like most people you can be happy with a rubber raft or smaller skiff, than the long house will be fine. There's no reason you can't use the short house and interior shown with JUNA, and I'll include her deck construction and interior plan with these plans if you want them. By the way, it used to be common to TOW larger skiffs even on passages. Just put a good cover on it, and use maybe 100′ of tow line….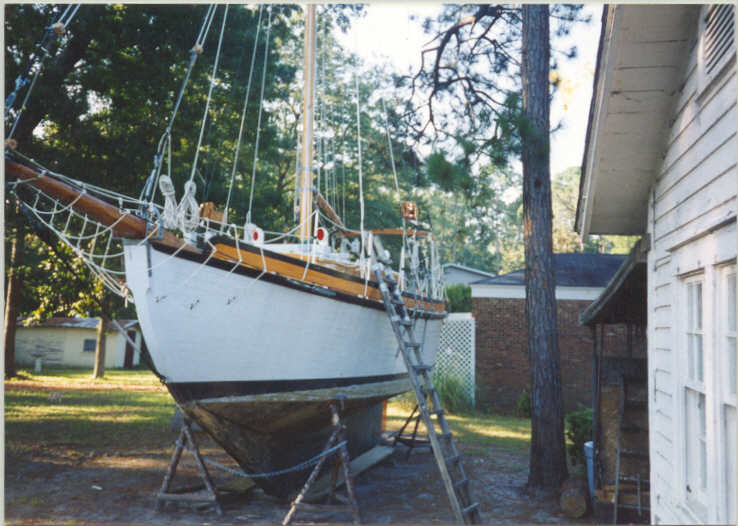 Here's the first Jenny. She was built in Florida and sailed the first several years with no engine.
The photos below are Ken and Amy's boat. They've really done a beautiful job of it.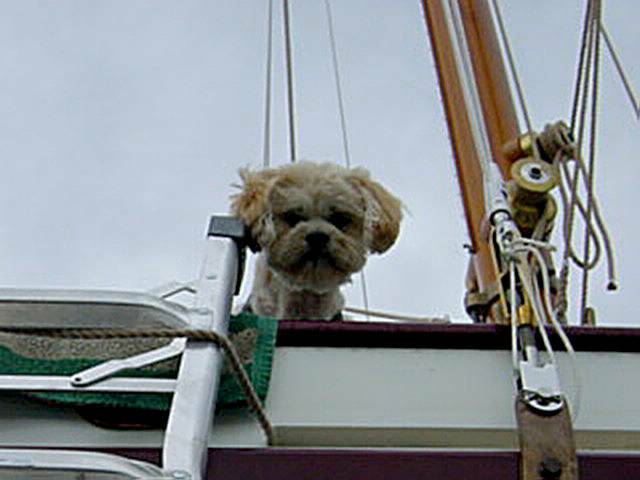 The Captain….
PARTICULARS
LOD: 37'2″ LWL: 32′ Beam: 10′ 4″ Draft:5′ 6″ Displ: 25,480 lbs. Working Sail: 708 sq. ft.