In summer of 1994 there was an editorial in one of the American sailing magazines that absolutely set me off. The editor went on at length about how light displacement and lightly built, dinghy hulled, asymmetric, high SA/Displ. ratio typical contemporary production sailing yachts, are without doubt the ONLY sensible cruising sailboat type. Yes, as modern skippers stand at the wheel, bareheaded, squinty eyed, surfing their modern high tech and usually very expensive "Vunder Boots" down the face of a gale tossed sea, one can imagine their strong chinned and thin lipped face briefly smiling in superior amusement at the thought of some old and boring single hander or perhaps, yes even probably, BRITISH couple like those foolish Hiscocks or Tim and Pauline Carr, maybe Lynn & Larry too even though they are Americans, no doubt HOVE-TO and comfortably laying about inside and reading. What pansies!
And what Drivel!
So much of the sailboat crowd is so boringly SERIOUS about things. Yes, though I too once had the moral certainty of theSELF-RIGHTEOUS, I couldn't keep it up. It takes very little imagination to be able to understand that with boats in particular, there are no absolutes!
The powerboat crowd understands that, although of course it's a bit more obvious in their case. Even a typical modern sailboater can see that when comparing a planning boat that burns 25 gallons an hour and a displacement boat that burns 1 gallon an hour the displacement speed boat is the one to pick if you're going much further than the next fuel dock. And with that displacement hull comes volume for carrying lots of stuff, and heavy scantlings so you can hit things without certain damage. Today, there area number of long range cruising powerboats on the market that are the total opposite of the typical modern sailboat advertised for the same use. They're built very heavily, they have substantial displacement, and they're designed expressly for a specific purpose; open water distance travel. And what is really interesting is that the people who own them don't have that sailboater type chip on their shoulder about "right" and "wrong." They all know that be it a twin V-12 60 foot speedster or a semi-planningGrand Banks or a displacement speed cruiser OR one of the various types of sailboats, each one has it's place and does its designed job better than the other could in the same situation. In other words, no one type boat is ideal for all uses, which as a group the sailboat world doesn't understand…. Of course it seems every few years something comes along to shake up the sailboat crowd. The '79 Fastnet, Mike Plant's crash, and the '93 stormin the South Pacific that took out a few cruisers comes to mind. But it doesn't last, as that editorial I mentioned at the start of this tirade demonstrates.
Anyway, this design was a direct response to that editorial. This boat is the very essence of all the old, outmoded, ignorant, and boring ideas that the editorial was putting down. The name is a play on one of my favorite Clint Eastwood movies; "HighPlains Drifter." Clint plays a ghost that pays a visit back to take care of a few wrongs. This boat is sort of the same thing; a ghost from times past.
The idea was for a really heavy duty steel boat that would be pretty much safe to take to rugged places, places that if you break down you're simply out of luck. It's heavy displacement(D/L ratio of 347) allows it to be built like an Alaskan fishboat; 1/2″ plate keel, 5/16″ bottom, 1/4″ sides, 5/16″x 5″ x 3″ "L" section frames and closely spaced1/4″ longitudinals. While the Great Coyote tends to reach out and slap down people or things that get to "uppity",just the same this boat can with confidence point its bow spritin the face of most things and come back again.
Simple, symmetric and fat Lines Plan will bob about in the ocean like a big assed duck!
Her great beam will keep her from pointing well in much of a chop, but since nobody beats to weather in open water if they can possibly avoid it, so what? In return her fat body will roll along off the wind like a duck on the water, and she has a great interior for spending long periods of time aboard.
The interior drawings are self-explanatory so I won't bore you with to much talk about it. However, I think this is a very "livable" use of the space. What makes it work is that everything is adult sized. The galley has enough counter space so you can prepare meals. The toilet room is large enough to move in. The dinette is big enough to feed four, and converts down to make a guest double bunk. I have a particular gripe; I can't STAND boat interiors that are overtly clever and busy. Toilet rooms you can't move in, galleys with hardly any counters, no storage, engines you can't service; all these are far to common today, and are NOT found here!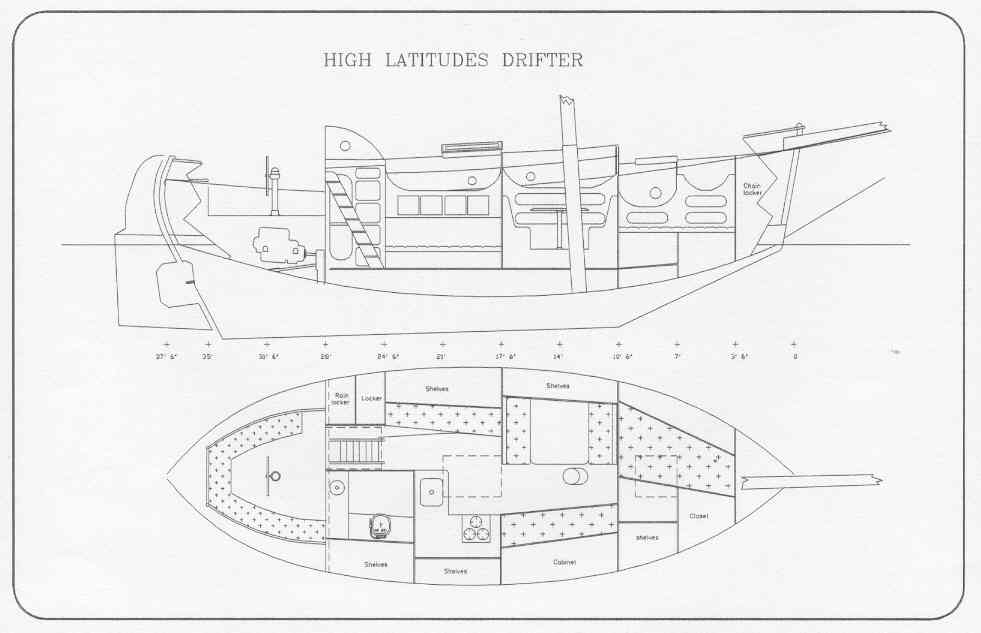 I don't care for the Vee drive engine deal any longer and would use belt drive I think, unless you can find a heavy duty unit you trust. Perhaps if it has demonstrated standing up to a V-8 we could trust it on our 40-50 HP diesel.
She was given a flush deck for maximum structural integrity as well as to get the biggest interior possible. The solid wood mast is stepped on the keel, but enters the boat through a heavy wall pipe that extends from the coach roof to the keel. I first saw this done by Ed & Ruby Root who built one of my designs in Oregon. The idea is that the mast gets the benefit of being keel stepped, but the heavy pipe seals off the opening and also serves as a truss, firmly supporting the centerline of the roof, or deck in this case. While the solid spar is very heavily stayed off with 7/16″ wire, should the Great Coyote decide to amuseHerself and pick up this boat and send it end over end a few times, when the mast breaks off it almost certainly won't take part of the boat with it.
An important part of the concept of this boat was simplicity. Simplicity mean reliability. It also means low costs, both in building and outfitting, and affordable by a working person if they do the work them self.
As I said, this design was created as a reaction to that ridiculous editorial. I wasn't working in the usual constraints of a new design; these days for me a new design is normally a custom design for a client who is paying me to createHIS dream. This design was a statement, and it simply flew into life. Today being tough isn't "Politically Correct"but PC or not, this boat can go right through just about any other boat its size around, and is a fine flag carrier for the concept of affordable and safe cruising sailboat for high latitude use. For instance, one of my designs spent years as a travel doc's office in Alaska, which is just the sort of duty this boat would be good at. While she's a bit fat, and she looks sort of funny on paper (she'll look more sleek in real life) I like her a lot. I wish I could say that the cedar chips flew as I madly carved the model, frantic in my Righteous Rage to create into 3 dimension the Vision hovering in my mind. But that wasn't the case. This boat was designed using AutoYacht and AutoCad software on a Pentium90 computer, which back then was probably the fastest computer in my area, and cost 3200 bucks. It replaced my 286 with mathcoprosser and THREE MEGS OF RAM that cost $4600, and I think was one of the fastest machines in the NW back then….. It sounds hilarious today, doesn't it. In fact, I just ordered (12/02)a P-4, 30 gig HD, 512 meg ram notebook, for $1600.. That will probably sound ridiculous in 10 years too! This computer caacaa isn't as romantic as a carved cedar half model and a floppy disk nailed to the wall just doesn't have the aura of a carved model, but it creates plans that are accurate to tolerances as close as 1 mm. which really speeds up and simplifies building. Plans are available on normal paper as well as on disk for builders using AutoCad or other CAD program that can read .DWG files.
 Particulars
LOD:38′ 2″
LWL:36′ 5″
Beam:13′ 1″
Draft: 5′ 6″
Displacement:35,480 lbs.
Working sail area:842 sq. ft.