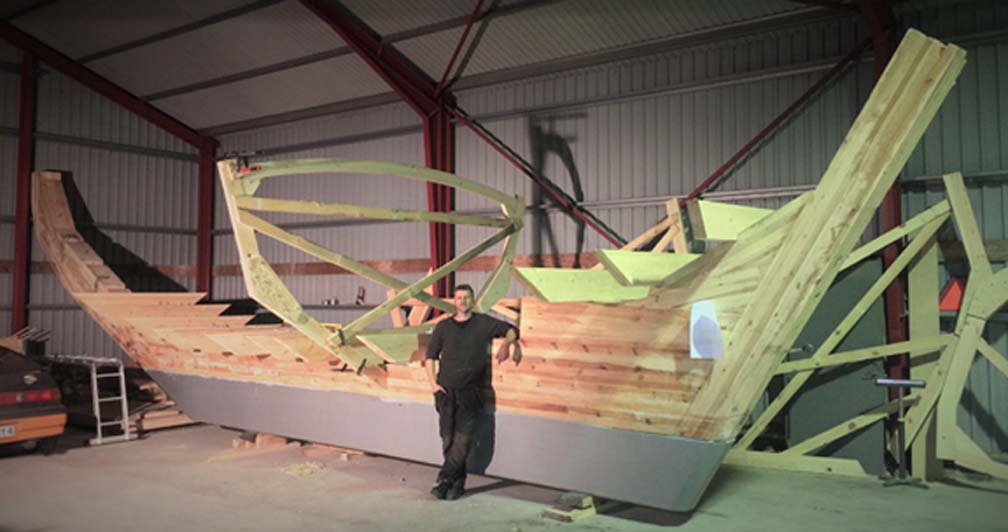 2015 photo of Fredrik Gustafsson, in Hjo, Sweden, doing a fine job of his OLGA.
Like Archimedes, the plans for this boat are free in my Building Book, but, if you buy them, you'll get all the versions drawn plus any consultation help you need.
OLGA (originally Jupiter, a cutter) would be alot of fun. Her rugged good looks will make her stand out in any anchorage, and she has the heft to shoulder her way into any fishboat dock too.
Her section shape is extreme and when the original was being built the builder, and I, received all sorts of comments about it, the main one being it ain't gonna work. However, as neither of us understood why a round bilge boat like a Cow Horn can have these sections and a chine boat can't, we, or rather I should say the BUILDER, ignored them. A brave boy. Well, she works great, and is a hell of a load carrier so ideal as a small working boat. That being said, these days I don't think so much displacement is needed for a cruising boat, and RUARRI (below), about the same size, has a much "firmer" mid section. Which is better? Depends what you like!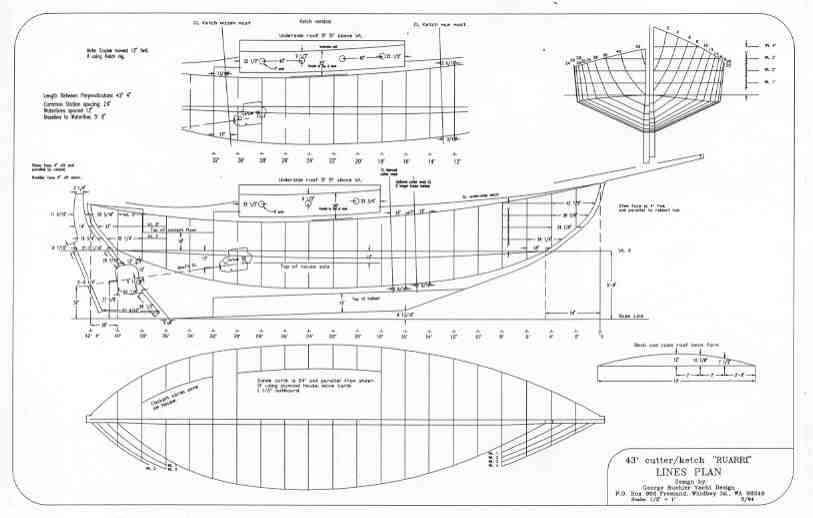 The interior is set up for comfortable living. She has a huge lounge area and a real galley.
Plans come with both the gaff or marconi rig.The gaff sailplan would be fun for playing with, although I'd probably chicken out and use the marconi if planning on cruising.But for general pleasure use, why not try the gaff sails first?You can do it, Mon! The masts and rigging wire are identical to the marconi rig, and, if you don't like the gaff sail you're just out the cost of a new main and mizzen, and a bit of rope. Make'em yourself out of canvas to try it! Or even one of those blue plastic tarps. Boy, what's happening? So many people are afraid to try anything different, and base their whole identity on jobs or clothes or cars, rather than their own skills. And passive?Our population is acting more and more like a herd of sheep. NowI admit that Indiana Jones has moves that are just a bit heavy, but, Jack T. Colton, even though that boy has poor taste in boats,I assume because he's new to them and don't know much, I can't help but sort of admire his style. And Jack, when he comes to his senses about boats, would try the gaff rig. Can't you just see yourself running up the ratlines, barefoot, pint in your hip pocket, rigging knife on a lanyard, Don't Thread On Me flag streaming in the breeze, while; "sailing in a gale, right over a whale, under full sail, in a fog!" Sure you can! The plans package include JUPITER, a stripped down cutter version.
LOD: 42′ Beam: 13′ 2″ Draft: 7′ S/A:780 (marconi) or 860 (gaff) Displ.: 44,000 lbs