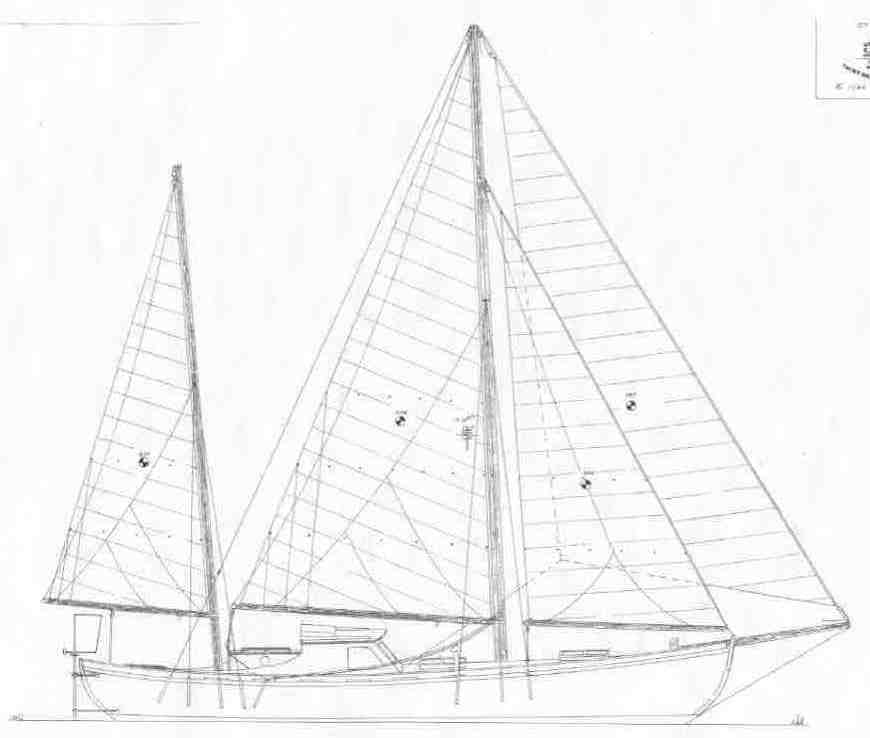 This big boat was designed for a man retiring from the US Marines, who wanted a boat large enough for him and his wife and daughter to comfortably live aboard. She is one step up from OTTER and would make a great long term live-aboard cruising home.
Her design is "traditional" cruising boat, based on well proven principles of reasonable displacement, symmetry and structural integrity. Her symmetrical ends help keep her going straight when rolling. Her long keel helps tracking, protects the rudder, and allows the boat to be beached or hauled on small railways. The extra few square feet of surface area a "full"keel requires, compared to a fin, can't have much affect on surface resistance, and is a major convenience for a cruising boat. It's amusing how many people can't see that.
The wood construction version is a combination of traditional methods and modern ideas. Her keel is laminated up, as are the deck beams and half the framing. The main station frames are double sawed. Her skin is a composite of an inner layer of 1 1/2″x 2 1/2″, covered with two diagonal layers of 1/4″. Her deck is laminated up out of 4 layers of 1/2″ plywood, and the whole hull and deck is covered with cloth and epoxy resin. This type of construction is becoming increasingly popular because it allows the natural advantages of wood; its ease of construction, natural insulation qualities, good looks, and longevity, with lower maintenance than steel boats because of the coatings. Although certainly not original with me, I prefer not to rely completely on epoxies, as the pure cold molded boats do, and instead use a mechanically fastened framework, which the cold molded skin is hung on. When extreme light weight isn't an issue, I think the system described is better. It's simpler to build, less expensive, easier to repair, and possibly longer lived. A single chine steel version was also worked up.
Her interior was set up for a couple with a school age child. The kid has her own bedroom in the bow, with a desk and lots of storage. I think kids need their own space, and I've seen to many people with children try to live on boats and have it fail, because the kids didn't have their own area, which means everybody is always in each others way. A second bunk could be substituted for the desk and closet if you wanted this area for a guest stateroom, or the owner's cabin could be moved here if you wanted to use the stern cabin as an office.
The boat has one "head," which seems enough to me.It's quite large, has a separate shower stall, and a good sized counter.
The galley is large. I think living on a boat requires the same kitchen as you like in a house. Putting little boards on a sink to get counter space just doesn't seem practical on a live-aboard boat. You need a real galley.
There is a small wheelhouse, which separates the living area from the owner's cabin. The owner's cabin is in the stern, and is unusual in that it has an asymmetric deckhouse which keeps the stateroom private. Entrance to the interior is through the wheelhouse, so the area over the owner's bunk is deck rather than house. There's a minimum 6′ 2″ headroom throughout the boat, and 6′ 8″ in the wheelhouse.
The Pilothouse interior can be used with either rig.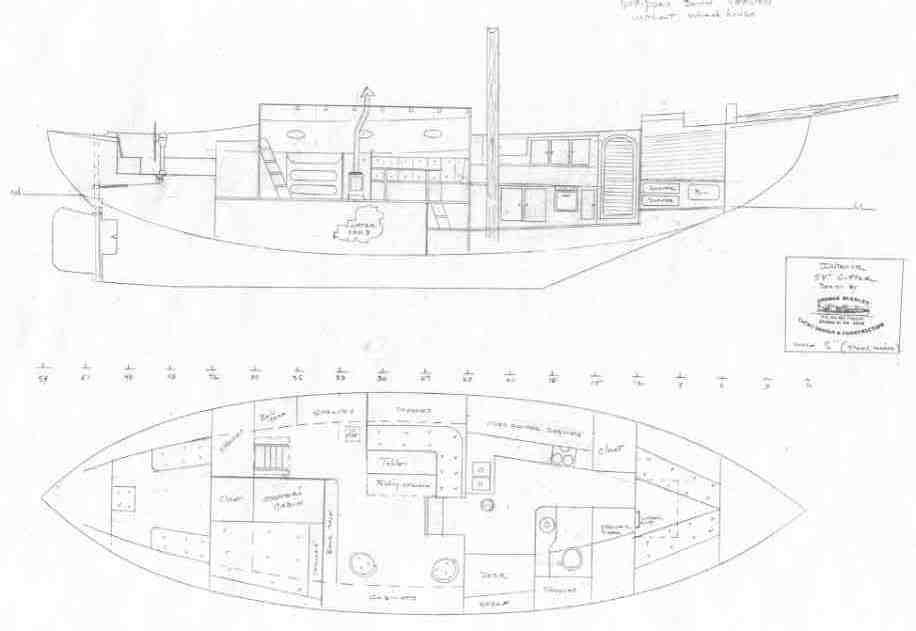 Here's a simpler yet version, cutter rigged, no pilot house.
As with most of my designs, mechanical systems have been kept to a minimum. A visit to any large cruising port will show broken down boats, all waiting for SOMEBODY to arrive who can fix electrical and other systems. That shouldn't happen here. This boat uses gravity flow water at the sinks and shower. She has a large engine room below the wheelhouse with full access to the engine and coupling. She has a very basic 12 volt system for cruising.
However, a 110 volt system could also be installed, along with a pressure hot and cold water setup just like a house. These would be dependent on dock facilities, so when at a marina the power can be hooked in the shore power, a hose can be connected to dock water, and you've got all the comforts, with no headaches.
The plans include both a ketch and cutter version. She's a large boat with a large WORKING sailplan. Of course various light weather sails can be used too.
The stripped down version without the wheelhouse was worked up as a proposal for somebody, who decided not to go with it butI like it. It would be a very handsome and comfortable boat, and leaving off the wheelhouse simplifies things and allows a bit more spacious interior. It uses the sailplan of the original house version.
I'm not a big fan of ketches and would go with this cutter sailplan if it twer me…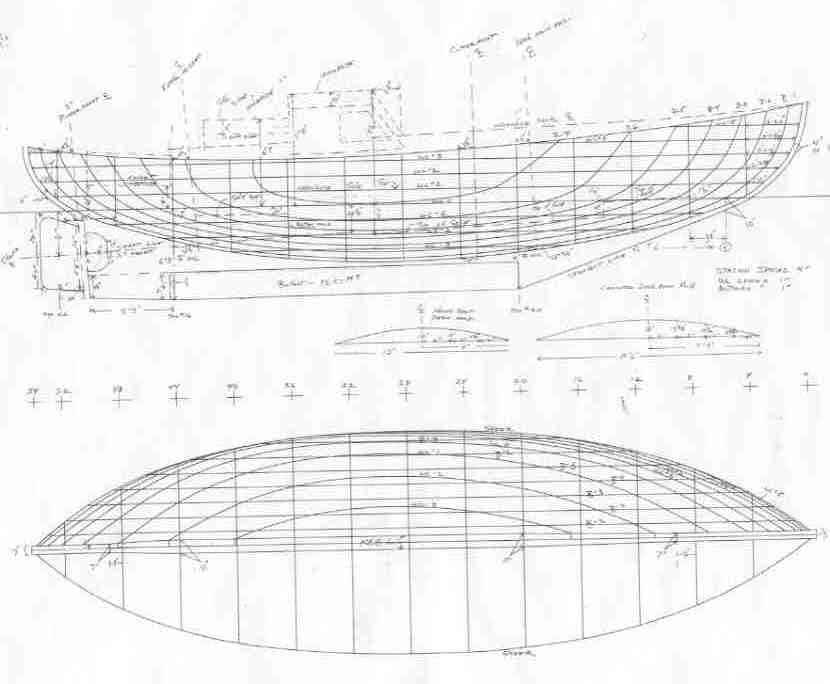 This design was the very first hull I did with a computer program, with thanks to Graham Shannon in Canada, who invented the program. It took several more years and a community college night class to figger out AutoCad, so the entire rest of the design was done by hand. It sure is a new world….

LOD:………………. 54'8″
LWL:………………. 47′
Beam:…………….. 15'4″
Draft:……………… 6'5″
Sail Area:
Ketch :……………. 1513 sq. ft.
Cutter: …………….1471 sq. ft.
Displ.: ……………..62,000 lbs.