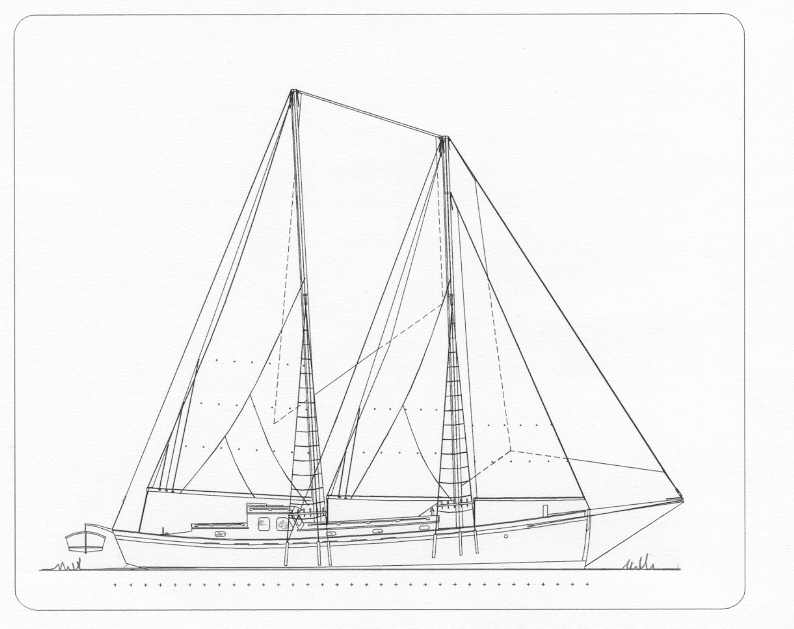 I've always thought this ship's hull has one of the very best profiles I've ever drawn. I also think the rig came out great; the proportions are very pleasing, to me anyway. On the other side, I think the house is too long, and I think the hull is too beamy and if you buy her plans, I'll redo the Lines to make her narrower if you'd like. But as drawn she's one hell of a comfortable live-aboard.
She was designed for a guy who wanted a big live-aboard for his family. He was a real high energy guy and even though he had never built a boat before, he bought a mountain of wood and sailed full steam boogie into it and within a few months there was this incredible frame lurking over his home in a nice WASP neighborhood in Redmond, a bedroom community of Microsoft. It was wonderful; it made the neighborhood suddenly interesting although I imagine some of its inhabitants didn't see it that way. Anyway, things happened and the ship was never finished which was sad because as I said, I really like her looks and she'd make a hell of a live-aboard.
Although designed for wood she's a natural for steel too.
LPB: 64′ 1″ LWL: 59′ 9″ Beam: 19'9″ Draft: 6′ 6″ Displacement: 91,011lbs. Working Sail Area: 1644 sq. ft.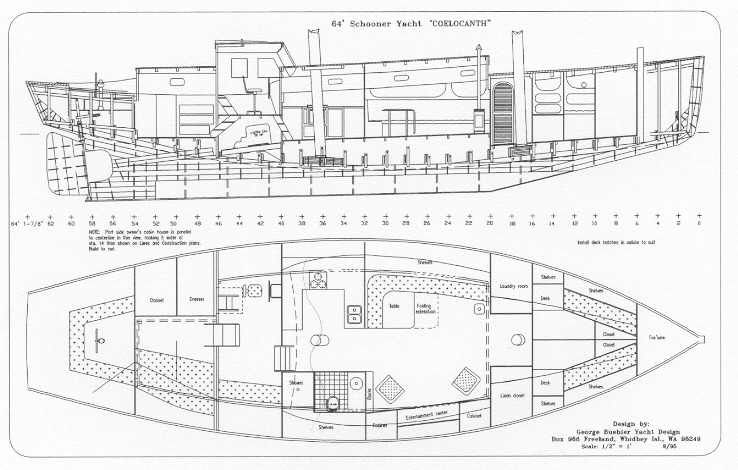 This is certainly a comfortable interior! The guy she was drawn for had a son and daughter hence the large area in the bow devoted to kid cabins. There's a CL bulkhead dividing the area to two rooms. As mentioned above I'd like to redraw her with a bit less beam. She has huge wide side decks which make movement on deck very easy but aren't really necessary. Narrowing them to say 18″ would be fine so if we narrowed the beam, we wouldn't change the interior that much other than making a narrower sole of course.