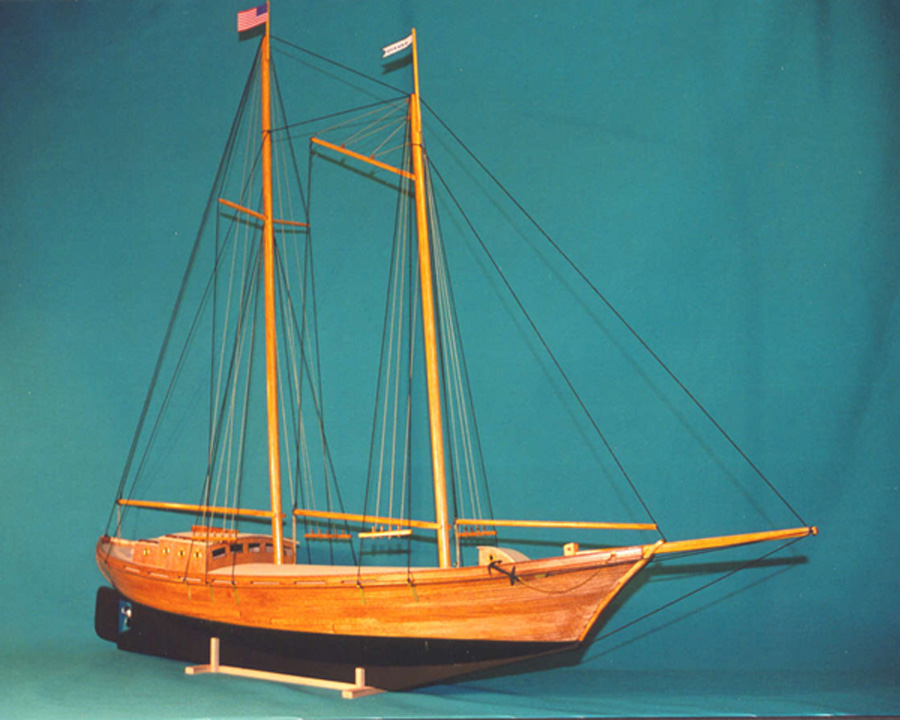 Many thanks to Tim Reynolds, of Fair Oaks, CA, who made this model. And my apologies to him for not posting his name before now. I had forgotten it and just found it… Anyway, this design is one of my older ones and I still think she's perhaps the prettiest I've ever done. The below text was written back then, soon after the design was completed. Please excuse the possible "hyperbole" in places but I LOVES dis ship!
Occasionally along comes a client that were I able I would payHIM to actually see the design commissioned and built, and such is the case with this big schooner. Working up this design was like being paid to design for myself and very few preliminary drawings were needed except for the interior. While I keep dogs,Dave is married into one of the Pacific Island Royal families and so far has 4 kids. More will probably come. Plus, there were certain features he wanted which I'll point out directly.
Beauty has as many definitions as there are people but just the same I find this boat absolutely beautiful. At her length you don't have to compromise anything about the profile to get some interior room, and this boat's low and springy profile, her Scandinavian canoe stern and reverse curved bow rabbet, her uncluttered decks, stern house, and raked schooner masts, all seem to blend together perfectly. I wouldn't change a line of her.
While she looks great, she's also a simple hull form to build. Dave's interest was keeping things simple to keep building costs down. Obviously, the less waste of material and the less high tech tools and skills required, the less the boat costs. My interests were identical but considerably more selfish. I hope to be in the position to build this boat myself one day, probably of wood, so for me the hull lines and construction plan were a study in creating a huge boat that was still possible to "home build."While there are the "supermen" we hear of who singlehandedly build huge intricate ships or "monster houses,"I've done enough building to know my own attention level, and a boat this size could be an overwhelming project if the design wasn't carefully planned out otherwise.
So, we gave her a single chine hull. Aside from the tracking advantages, the chine hull section is much simpler to build, less wasteful of materials so less expensive, and with the scantlings specifiedI'm convinced is stronger than the round hull.
Practicality would have called for straight line sides to match the underwater shape, but anybody contemplating an 80 foot wooden schooner can't be expected to be totally practical so we molded the topsides considerably. Her bow has gentle reverse curves flowing to flaired straight lines in the middle area, then on to a good deal of high shouldered roundness at the stern. The chine is totally underwater and rowing up to her you won't be able to tell she has one. The steel version lines plan loose the flair at the bow but keep most of the roundness at the stern. It should look almost as good!
The wood version's materials are normal dimension based upon commonly available lumber sizes, and lamination is used extensively in the construction. The deck beams, chine, shelf, and keel are all laminated up. Even the frames are made from two layers glued and bolted together. Thinking about what's possible for one guy todeal with, she's double planked with two layers of 1 1/2″.This is a common size and I've found I can handle 20 foot 1-1/2″x 5″ planks without help. Dave's boat is going to be professionally built, hopefully in Maine, so the alternate and probably less expensive planking idea is single layer 2 1/2″. This too is a normal dimension, but the planks are heavy enough where they require several workers to handle them. It might pay to hire help and use the 2 1/2″ instead of double planking, although we both like the idea of the double hull. The hull could be laminated of plywood but part of the fantasy of owning a ship like this is that she is a WOOD ship; caulking seams, bunged fastenings, butt blocks; the whole bit. The exception is the deck which is glued and nailed up of 5 layers of 1/2″ plywood. The deck is very important structurally and a heavy plywood deck like this is stronger than steel for the weight, will never leak, and requires simpler deck framing than a planked deck. I admit it doesn't look as good, but maintenance of a boat this size is a consideration and the plywood deck, painted with a good nonskid surface, is trouble free.
The deckhouse layout is unusual. It has small extensions port and starboard with the entrance in the middle. One side makes a private cabin for the captain if the boat is being chartered, and the other side makes a ship's office out of the way and completely private. Dave insisted on this and at first I thought it was a mistake but came to realize that it makes sense. A ship's office and radio room seems like a good idea if there are groups of charter passengers aboard. The main part of the deckhouse has a chart table, couch, and a wheel for driving inside when powering.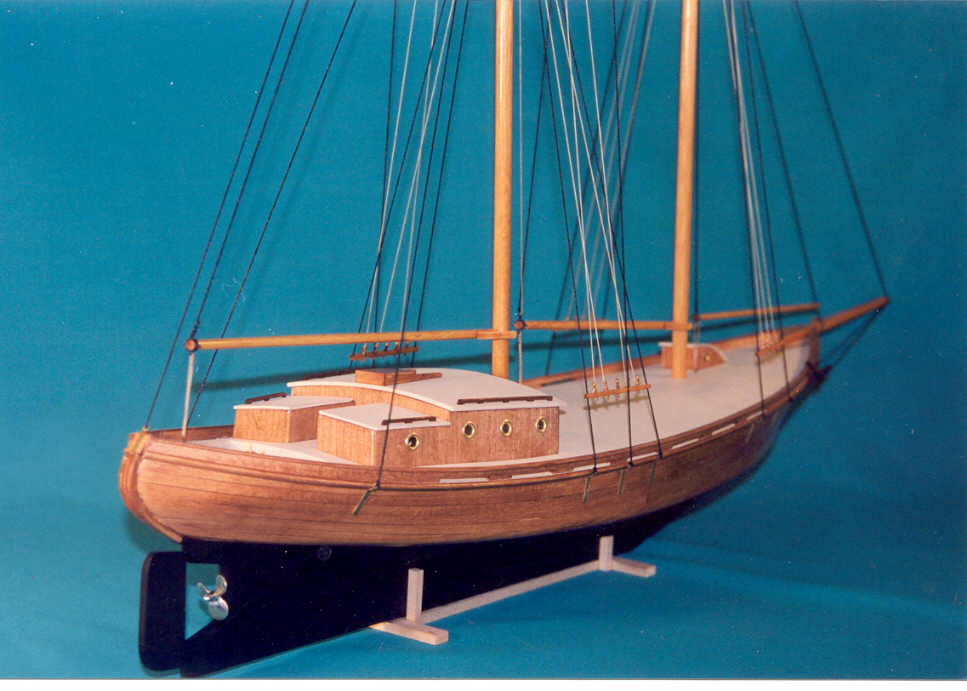 A boat this size would be expensive to keep up so the possibility of charter use was planned into the interior.
There's a very large galley and a huge dinette that is patterned after the layout on the tugboats Dave worked on years ago. The double table with a walkway in the middle makes sense when a large dining area is required and I'm surprised it isn't commonly used.
There are 4 double staterooms, 3 with two bunk beds and one "master"with a large double bed. This cabin will be used by the owner except when the boat is chartered.
We both wonder why most yachts have multiple toilet rooms. Rather than one large and convenient bathroom like we expect even in a motel room, the average new boat will have two or even three tiny cleverly laid out "heads." Even a fashion model would be hard pressed to fit into the average one, and after several weeks a person with a normal build would likely go berserk.
So we gave her a large head with a real counter and sink in it.Across the passageway is a large shower stall. While this won't appeal to all, it will work fine for a family and will serve to screen potential charter passengers, keeping away the more uptight.
The forward 18 feet of the boat is separated off by a heavy crash bulkhead with deck access down to a small cabin with two bunks and a head which would serve as crew quarters or shop space. Forward of this cabin is a "foc'sle" accessible through a flush mounted deck hatch.
Both Dave and I think the schooner is the prettiest of all the rigs so of course this boat is rigged that way. While the temptation was certainly there to erect a cloud of sail, the practical side of handling it won out so she carries a fairly conservative 2258sq. foot broken up into 4 sails. The marconi main with standing backstay is a cop-out, but a gaff main would simply have been to big and cumbersome. Given a bit of sea room I think two people could handle her. Three or four would be easier of course, and most of the time there will be a number of folks aboard. A guy I know tells stories of single handing his 70 plus footer along side Sterling Hayden who was single handing his 80 plus footer around San Diego harbor years ago. Towards the end of commercial sail in Maine, schooners far bigger than this were worked by one man and a boy. This rig has multiple reefs, lazy jacks, topping lifts even on the staysail, so should be controllable by us modern and less tough guys. Drawings of a light weather rig consisting of an overlapping fore and one big headsail are being worked up with the idea of schooner races….
Mechanical systems are kept simple and patterned after work boats.She has hydraulic steering, a hydraulic self storing cable anchor winch, a naturally aspirated 6 cylinder diesel, 200 gallons of fuel, and 200 gallons of water along with a water maker.
This design was fun to work up. Unlike most boats where interior room is the major concern, this design's entire emphasis was on a very sleek exterior look, and the interior was fit into that.Of course her 80 feet made it simpler than if she had been say40 foot, but it's an unusual approach and I'm grateful to have had a client who agreed with me about doing it that way. We're both quite pleased with the results!
Note: A steel version has been talked about for years but never worked up. If you're interested lets discuss it. Oh, and unfortunately, she so far hasn't been built. One of these days……
Length WL: …………. 70′ 7″
Beam: …………………. 19′ 8″
Draft at DWL: ………. 8′
Displ at DWL: …….. 142,840 lbs.
Displ./Length ratio: …… 194
External ballast: ………. about 35,000 lbs.
Working Sail Area: …… 2258 sq. feet.