After just a short time, I think 2 years, Walter & Karen launched ALCA i. They did quite a job of it. Here's a few photos shot not too long after the launch!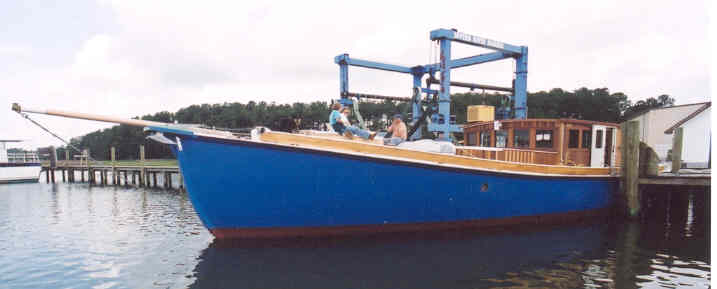 An unusual color scheme. I think she needs a contrasting boot top but that is certainly not an immediate issue!
I love the shape of this boat.
The three masts ARE practical because it makes each sail easily managed. ALCA is big enough to carry them. Aside from looking wonderful, two people can easily handle this boat. Walter's original comments about her sailing were interesting, especially since she was rigged with second hand sails at the moment and not her "correct" suit!

 

"We haven't done enough sail alone to give you an easy answer there. We have done a fair amount of
motor-sailing, and she is wonderful there; often see ten knots on a reach, and of course very comfortable. The sails were used, temporary, just whatever we could match up for little or nothing.
We will do better next year and will know exactly what we want."
It seems life couldn't get much better than owning a 3 masted ship with a wheelhouse like this….